A tale of pacific beauty:
Fiction by Terry Marshall
American Model
Culture Stories | Read "American Model" | Instructional Resources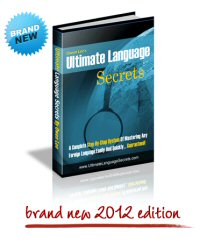 Ultimate Language Secrets
You've learned about Walkabout language learning. Want more ideas about how to learn languages faster and easier? Owen Lee is an expert language learner. He gives you tons of advice in Ultimate Language Secrets.

Leslie, at Your Language Guide has read this book and she thinks that it has fantastic ideas about language learning. Plus, we love the free Beyond Languages book that he includes. Read the full review.
An Excerpt from the Story
. . . I strip off my modern T-shirt. Jully drapes the bandolier of shell monies over my head and shoulder, arranges it over my susus. I shed my cloth skirt and panties and city ways. Jully ties the maku string at my hips. We flit about like wild parrots, adding braided armlets, ankle bracelets, rows of tiny knee beads, giant bone earrings, a yellow and red Kwaio comb to my hair, all the time screeching for the joy of it.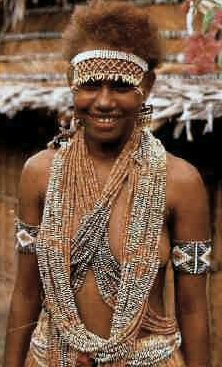 From Solomons#9 (1992), the magazine of Solomon Airlines.
Esme is a fictional character. This young lady is not Esme -- nor is this story about her. We show her here to illustrate the attire Esme describes in American Model.
Now I prance through the store, waggling my bare bottom. The blue maku apron covers only in front, and only a hand's width. Jully guides me into the window display. "Stand here, Miss Village Bride, so the sun may enhance your charms."
"Ah, now I am lovely. You can present me for marriage."
"Yes, I shall. But who will be the husband?"
"No matter," I shrug. "A man is a man."
She laughs. She knows I do not believe that. . . .
. . . I am storying, a tale of the one-toed nasty man, when Jully motions with her eyebrows. A whiteman tourist presses against the window. He hangs mid-stride, staring back at me as if like Lot's wife, God struck him to stone. Whitemen go crazy for naked susus, I know that from the cinema. My susus are firm, not saggy like an old village woman. My nipples are prominent and dark as ebony. I readjust my bridal bandolier, and one susu bounds free. The whiteman comes to life. He turns, and enters the shop. . . .
"American Model" was first published in Living on the Edge, fiction by Peace Corps Writers, John Coyne, editor, Curbstone Press, a collection of 17 short stories by writers who served abroad with the U. S. Peace Corps. Other contributors include Norman Rush, Paul Theroux, George Packer, Marnie Mueller, and Bob Shacochis.


---
Reviews
Sick and tired of the lull in contemporary fiction today, with the same old stories told over and over with the same old characters and settings and far too much focused narcissistically on the petty crisis of America's overexposed middle class? Then pick up this anthology, a wonderful collection of stories that takes you from Africa to South America to Asia while probing important issues of place, identity, and tension in a world grown closer but still suffering from a huge gap between have and have-not nations. . . .The stories range widely, from Paul Theroux's 'White Lies,' a stinging story of one young man's comeuppance in Africa, . . . to Terry Marshall's witty 'American Model,' which pokes fun at naive American attitudes about 'natives'.
– Barbara Hoffert, Library Journal


Of the several stories published here for the first time, I was particularly struck by those written by Karl Luntta and Terry Marshall . . . Marshall makes the entire story a delight to read plus an insight into South Pacific Island life.
– Charles Larson, Worldview


Terry Marshall's delightful 'American Model' is perhaps the most successful in . . . (observing) the actions and emotions of 'The Other' from an intensely intimate point of view. Marshall creates his story from a native Solomon Islands woman's point of view.
– Gail Gilliland, American Book Review


One of the book's most delightful stories is Terry Marshall's 'American Model," set in the Solomon Islands.
– Patricia J. Crepeau, Orlando (FL) Sentinel
Return from American Model to Culture Stories
Return to Your Language Guide home