Walkabout Language Learning Action Guide
Discover Your Language Learning Dreams and
Make them Come True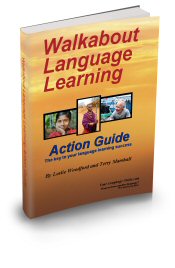 Do you want to learn a second language? Maybe you have already started, but are unsure of how to move forward. Perhaps you've gotten to a plateau in your language learning journey and need new ideas to move you to the next level. Keep reading to learn how to discover your language learning dreams and make them come true.
Get the benefits of a second language
Have you ever wished you could understand when someone was talking in another language? You're not alone. Knowing a second language offers many benefits, including:
A new perspective or way of thinking about things.
The ability to laugh at jokes in a second language.
Eyes to see new sights.
Greater ease of getting around in your new country.
The ability to handle day-to-day business abroad.
Deeper friendships across cultures.
Improved employability.
Improvements in your international business.
The ability to speak to your other language employees.
Learn Exactly What you Need When you Need It
You know what language skills you want, Walkabout Language Learning Action Guide by Leslie Woodford and Terry Marshall shows you step by step how to create your own language learning program. The Action Guide shows you how to put it all into practice.
You control the vocabulary you learn.
You practice the skills you need.
You decide how much time to spend.
Tailor your study to meet your needs.
Learn at your own speed—whether that is fast or slow.
You decide how to use this guide.
You assess your progress.
You decide when you've reached your level of mastery.
You get an in your ear guide to direct your study.
Follow step by step instructions to create your own language lesson.
You learn exactly what you need when you need it, not a bunch of verb conjugations that will trip you up every time you open your mouth.
The Walkabout Language Learning Action Guide contains the key to unlocking your language learning dreams.
With the Action Guide, your language study:
Is immediately useful.
Is easy to remember.
Motivates you to learn because you know you'll use it right away.
Stays in your mind the next day because you used in a real situation.
The Action Guide gives you:
Tools to avoid embarrassing mistakes.
Tools to move ahead in your language learning journey.
Access to us to answer your questions along the way.
Methods to insert yourself into native speaker situations to get the practice you need to succeed.
Learn practical language
Have you ever wondered how "useful" the phases and vocabulary from your foreign language textbook would be in a real life situation? While it might be nice to know how to say "pencil" "blackboard" "chalk" and "eraser" the Walkabout Language Learning Action Guide walks you through the steps to create practical language, including:
Going to a party,
Visiting local sites,
Dating,
Giving directions,
Doing anything you need to do in your new language.
Solving a Problem I Didn't Know I Had

Your book [is] perfect for me. I can tell that you were trying to solve a problem I didn't know I had. There are TONS of books and guides out there for learning languages, but there's nothing that tells you how to plan and set goals for using things like that to learn a language. It's a meta-language-learning guide: How to use the stuff that's for learning the language.
Some of the things I'm using are for tourists with silly dialogs about finding the circus and stuff like that. But I'm not a tourist. Some of those books and guides are for students who are seeking language mastery with lots of grammar and advanced usage. But that's not me either.
Lately I've been feeling that after my initial push for learning the language I've started to lose my way and not keep up the pace. What I needed was a guide with a method for using all of my resources to establish personal goals for language learning. Along came your book! It was like an answer to a prayer I hadn't yet uttered.
Benjamin R.
Desenzano del Garda, Italy
Use it Abroad
You can use the Action Guide anywhere. If you are planning to go abroad, or if you already live overseas, the Action Guide helps you use the language opportunities all around you. You can use it as part of formal classroom instruction, or to take your language practice outside of the classroom, or in your own self directed program. It is that flexible.
Use it at Home in your Own Country
Learn how to use foreign language speakers in your own community to start your language learning before you go abroad, or if you can't travel right now, prepare for future travel. Get ideas about how to practice at home in your own country.
If You're a Language Teacher: Use It with Your Students
If you're a professional language teacher, learn the tools to help your students extend their learning beyond the classroom. They will progress faster and farther.
Discover your Language Learning Dreams
Learn the specific activities to discover your language learning dreams.
Benefit from a comprehensive self-rating checklist
Use the goals listed or define your own then test your knowledge based on the "self test" lists.
Learn 7 easy tricks to help you study better
Learn the vocabulary, sentences that you need to know.
Learn how to measure your cultural understanding.
Use the tools provided to create your own goals and measure your own progress.
Use a self test that is made for learners not for instructors.
Your Language Learning Mentor
Learn why a mentor is more than a translator and how to get the most out of your relationship.
Learn what characteristics are most important in a language learning mentor.
Learn how to find and use "instant mentors" when you travel as a tourist or visit a country for a short time only.
Learn how to find a mentor—in your own country or a foreign country.
Use Our Sample Dialogs or Create Your Own
Benefit from several sample dialogs to get you started, including:
Basic beginner intro
Ordering at a restaurant
Making an international phone call
Asking directions
Buy batteries, fix camera
Or create your own dialog
Learn Smart Study Tricks
Six self-study techniques to help you memorize your dialog
Plus one tip you've probably never thought of to make your study stick.
Learn about the "otro camino" to help you get your ideas across and be understood by people, even if you don't know the exact word.
Learn how to use past experiences to further your learning
Learn keys to identify cultural cues and differences
Find out how to expand your study with self-talk
Get creative ideas for leveraging connection that you may already have
Help Other Learners
Help other people learn (and enrich your own experiences) by publishing your successes.
Your Price
USD $14.97
Order Walkabout Language Learning Action Guide now.
Your privacy is important to us. Your transactions are safe, reliable, and secure.
Our Guarantee
Still not sure this is the right purchase for you? Let me give you one more reason to order. Walkabout Action Guide is backed by our 100% guarantee. For up to one year, if you are not satisfied, we'll give you your money back.

Just ask, and we'll refund your money. Period. No questions asked.


Return from Walkabout Action Guide to Learn a Language

Return to Your Language Guide home