Walkabout Language Learning™
Strategies That Work
The Walkabout method uses three basic language learning strategies. These strategies will help you whether you already know some basics, or you have a good foundation, or if you know nothing more than "Hello." No matter your level, with Walkabout Language Learning™, you build according to your needs. To do this, follow these strategies.
Set language learning goals
Recruit mentors -- native speakers to help you learn what you need to know
Practice your skills in the community.

Language Learning Strategy 1: Set Goals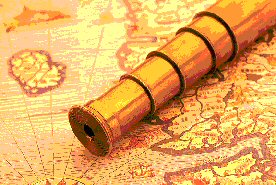 To get started, you need a clear idea of what you want to learn. Do you want to be able to chat informally with friends? Do you have to manage a team of native speakers at work? Or do you just need basic survival skills? Write down your goals, hopes, and wishes. Click here to rate your current language ability and get ideas for what to learn next. Some competencies shown there should show up in your long range goals.
Now prioritize: next to each item indicate whether it is a "must learn," "would really like to learn," "would be nice to know" skill. This will help you decide what to work on first. An important way to help set goals is to track your progress. Click here to see my journal.

Language Learning Strategy 2: Recruit Mentors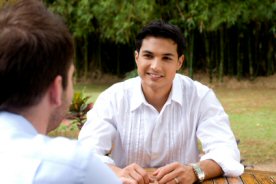 The next step is to find mentors, people who will facilitate Walkabout Language Learning™.

"'What kind of person makes a good mentor?' you ask. In a nutshell, one who is patient, understanding, supportive, creative, knowledgeable, firm but fair, bright – all the qualities one would want in any ordinary superhero." – Terry Marshall, The Whole World Guide to Language Learning: How to Live and Learn a Foreign Language.

You may find someone who lives up to all these qualities. More likely, you'll find several people with many, but not all. Over time, you'll probably find that working with more than one mentor can help you reach language goals in different areas. One person may be good at providing candid feedback and correcting your grammar and pronunciation while another might be helpful with professional or technical language and protocols. Click here for tips on finding a good mentor.

Language Learning Strategy 3: Practice Your Skills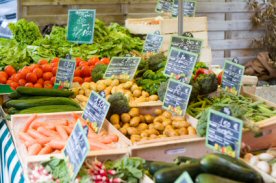 Once you select mentors, work regularly with them to develop dialogs (short conversations) that you can use right away in the community. In the beginning, these dialogs may center on basic needs: going to the post office, buying groceries, or using public transport.
As your language skills progress, develop dialogs to meet other needs… Explain your favorite pastimes… Give directions to subordinates at work… Describe a project that you are working on. And so on. Ready to start? Click here to learn the five-step Daily Learning Cycle.
As you practice your language skills, you will find many opportunities that teach you about the way people live in this new culture. Sometimes you may be at a loss in knowing how to do things. Click here to read my embarrassing moment.
You can put these strategies to work for yourself using the Walkabout Language Learning Action Guide. Click here to download this ebook and start achieving your language learning dreams.
Continued: Learn Language Through Culture
< previous| 1 | 2 | 3 | next >

Additional Strategies
After you've read implemented the suggestions here, check out Owen Lee's Ultimate Language Secrets; packed with ideas, it is a great supplement to Walkabout Language Learning.
Learn more about tandem language learning.



Return from Language Learning Strategies to Walkabout Language Learning


Return to Your Language Guide home
---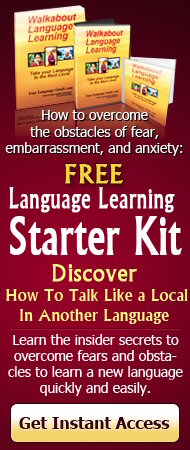 Immersion Works
There is no better and more effective way to learn a language than to be immersed in a culture that speaks the language you are learning. You're surrounded by the language on a daily basis and are seeing and hearing it in the proper cultural context. Language learning happens most quickly under these circumstances. --www.vistawide.com
---
Language learning "is like an old-time rail journey—delays, sidetracks, smoke, dust, cinders and jolts, interspersed only occasionally by beautiful vistas and thrilling bursts of speed." --Jenkins Lloyd Jones quoted by Gordon B. Hinckley, Liahona, Nov 1997
---
Now Available Study Abroad Handbook
Planning to study abroad? Having a hard time choosing a program?
Check out our helpful guide "How to Choose an International Study Abroad Program."
Best of all, it's a FREE download.


---
Multicultural Literature
Check out the latest additions to our multicultural literature section: Multicultural Stories.

This section offers both fictional and non-fictional stories and essays set in regions around the world. You can read them on line for FREE.