Language Learning Blog: What's New on our Website?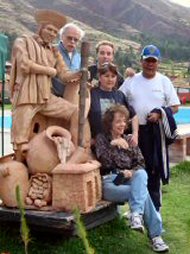 Language learning during our visit to Peru.
Welcome to our
What's New
page. Want to stay current on all the new content we are posting to our site? This section is filled with culture and language learning stories, ideas, and tips. All our new content is displayed here first, as soon as it's added. Come back often to see our new content.
Add us to your RSS feed, and you will receive new content directly to your computer as soon as it is posted. The joy of language learning is making new friends. This section includes stories from our language learning experiences around the world. It is our language learning blog. Join us on our journey, and let's have fun together. Click on the orange XML/RSS button to learn how.

Digital Storytelling
Stories are expressive, magical, creative, touchy and powerful sometimes. ...
The traditional storytelling has a new face with the growing technology today: Digital Storytelling. This is one of the new twists of the technology. It refers to using new digital tools to help ordinary people to tell their own real-life stories. (Wikipedia)
--Özge Karaoglu
Everyone of us has a story to tell and we all like to read or listen to stories.
May 10, 2019
Mixed Emotions
My husband went back to Cuba for the first time in 50 years. He left at age 8 and had memories and family still in the country. I did a lot of research
Stay in Touch with Language Lore ezine
Want to stay in touch? Subscribe to Language Lore, our internet language learning email newsletter. This free ezine facilitates your language learning journey. See our back issues here.

Go to your email now to confirmation your subscription. If you don't see an email within an hour (check your junk mail folder too), please contact us. We respect your privacy and never sell or rent our subscriber lists. If you want to get off this list later, one click unsubscribes you.