Travel to Cuba Today: A Flight into the Past
Note: Travel to Cuba is part of a travel blog that we wrote during a humanitarian mission to Cuba. We are convinced that language opens a gateway to understanding culture. These pages focus on the culture of a country that has been relatively isolated for a half century. Our visit offered an opportunity to explore a place that few of our countrymen have seen. While we were there, we practiced Walkabout Language Learning to improve our Spanish and spent time with Cubans through a Jewish medical mission and informal encounters in Havana. See the list of "More Cuba Stories" on this page to explore how culture and language intertwine.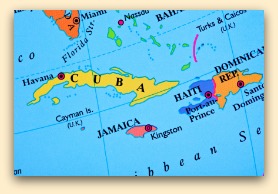 Map of Cuba
At last! I've waited 52 years to travel to Cuba.

I was a high school senior when Fidel Castro, Che Guevara, and Camilo Cienfuegos led the revolution into Havana. Before dawn that day, the dictator Fulgencio Batista had fled Cuba for the Dominican Republic. I knew nothing of them.
For me, January 1, 1959, was TV football – Iowa whipped California in the Rose Bowl that day, and Oklahoma won its second straight Orange Bowl game.
That summer, I went off to college and quickly found a home on the Colorado Daily, the University of Colorado student newspaper. A real-live revolution at America's doorstep both fascinated and frightened us.
At the Daily, we covered Cuba as if it were a campus hot spot – we ran stories on agrarian reform, nationalization of businesses, the flight of the middle class to Florida, the U. S. trade embargo, the Bay of Pigs debacle, the missile crisis. I even wrote a three-part series on my Spanish instructor, an Errol Flynn-look-alike Cuban refugee named Hugo Hartenstein; he had been a small arms instructor for the guerillas.
I dreamed of travel to Cuba to witness the results of the revolution for myself. No dice: when the U.S. slapped its embargo on Cuba in 1961, it forbade American travel to Cuba. Dream shattered.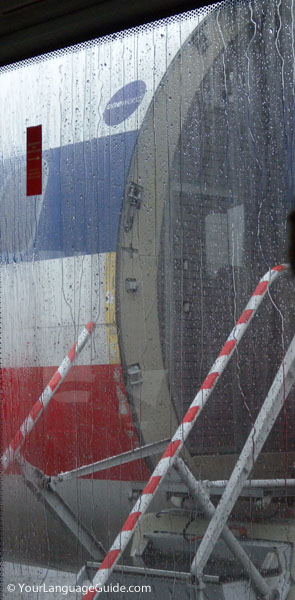 First glimpse: Rain streaming down the shuttle windows.
Ann Marshall
But now, 2012, my wife and I are in Miami International Airport, tickets for Havana in hand. We're in a tour group of seven, on travel to Cuba to bring medicines to Jewish-sponsored clinics in Havana and Santa Clara.

The Drizzly Route to Havana
In a deluge, the shuttle bus squeaks to a halt near a propjet tethered on the tarmac. Yep, we're traveling to Cuba on a propjet – two propeller-driven engines hang from the wings. One at a time we sprint for the open door – it's in the plane's rear, not the front – and scramble up the steps.
Inside: muggy hot, low ceiling, miniature overhead rack, two seats on each side of a Lilliputian aisle. As we travel to Cuba, everyone but us is chattering in Spanish. Most are Cuban-Americans, many on their first trip "home." We hope to have a some opportunities to practice the Spanish that we honed during our language learning journey to Peru a few years back. We'll use Walkabout language learning strategies when we can.
We take off in this storm, pitching about, dipping, dodging invisible and unexpected obstacles. Across from Ann and me, a middle-aged woman is praying. She grabs her seatmate's arm, and digs her nails in. Other passengers are audibly frightened. A five-year old asks his mom what happens if the plane crashes. She assures him it won't. I smile at him, flip him a thumbs up. We're not in danger; it's merely a bit bumpy.
An hour later we fly out of the clouds.
Cuba stretches below, velvety green. We circle and dip. Cuba below remains green and velvety – no suburban neighborhoods appear, no clogged freeways, no multi-storied office buildings. We ease down onto the runway. There are no gates, no covered passenger corridor moving out to meet us. Four commercial jets that have traveled to Cuba sit scattered about near the runway.
Havana at last! It's overcast, but no longer raining. We hike across the tarmac and into the José Martí International Airport terminal, a one-story building as squat and nondescript as a Sixties strip mall.

Walking across the tarmac to the Havana, Cuba International Airport.
Ann Marshall
Travel to Cuba into the Bastion of Communism
More Cuba Stories

We're in communist Cuba, but no one demands our papers or snarls "Go home, Yanqui!" No soldiers move in. No one wears a Che-beret or brandishes an AK-47. Rather, a smiling young woman in skirt and blouse greets us, points to the restrooms before we even ask.
Later, we cue up in front of a half-dozen numbered cubicles, present our passports, pose stern-faced for the camera (no smiling allowed), then step through an unmarked door. On the other side, uniformed immigration officers – two men, two women – gesture us through the metal detectors, wave a wand at us, and send us on to the two baggage carousels.
Our Cuban guide, Mirelys meets us, waits with us for our luggage, then ushers us past customs – no stops, no inspection – through a chattering mob waiting to meet friends and relatives, and out to our waiting van.
So this is what travel to Cuba is like today.
We're here. We're in Havana. It's hot. It's humid. The sky's drizzly. It's 1960 . . . maybe '63.
First impressions can be misleading, but we record them anyway. Here's what hits us as we twist left and right to soak in everything we see on our way to our hotel:

We're in a living auto show. Antique American cars – all pre-1960 – parade past. They're everywhere . . . pre 60s Chevys and Buicks especially, a few Fords; some pristine, many creaky with age. But not every car is a restored American classic; many are new imports, though not from the USA. We see Toyotas, Izuzus, Mercedes, Peugeots, Kias, Russian Ladas and Moskvitches. We're inside a living car show. All that's missing are the low riders.
Havana's traffic is unbelievable! It's lunch-time Wednesday, but Havana's streets are Sunday afternoon in small-town America. Here it is, Cuba's capital city, but we encounter no traffic jams, no horns blaring, no tailgaters. Havana may be Latin America, but the streets are a stroll in the park compared to driving in Peru, Mexico, or Argentina.
The sign-free roadside. Something's weird about the drive from the airport: my goodness, no commercial billboards! None – no signs hawking Havana Club rum or Cohiba cigars or autos or hotels or (as in my hometown of Las Vegas) sex. No neon, nor even store signs – no golden arches or KFC or Shell or Walgreens or Discount Tires . . . or their local equivalents. Havana is sign-free. Ah, but here's a twist: a few billboards do dot the landscape – the Revolution lives, one says; another denounces the American blockade as a genocide; one is a tribute to Che; another celebrates 53 years of Revolution. (More on this in a later blog: Cuba's billboards are fascinating.)


No billboards in Havana, unless you count these political ones.
The crumbling colonial heritage. Along the broad, tree-lined boulevards, stately old mansions suffer in the tropical heat – black mold creeps up the walls, façades crumble like sandstone, windows are boarded over. Not all – some have been elegantly restored, but the deterioration shocks us. It's most striking in the commercial heart of the city – some blocks remind me of photos I've seen of bombed cities; others are a fascinating side-by-side study of the restored and the crumbling.
Our trip from the airport is too short; there's too much to see. Our plan: we'll check in, then hit the streets of Havana. It's only day one of our travel to Cuba. We have much to explore.



Terry Marshall is a language and travel enthusiast and a writer who created Walkabout Language Learning. Follow my blog as I replace decades of old memories with new observations about the culture and the place in a series of posts on our humanitarian mission to Cuba. If you have visited Cuba, I encourage you to share your experiences or leave a Facebook comment below. If you have questions about my trip, please ask. To read more of my writing, click here.
Next: Intrigue sizzles in the air


Return from Travel to Cuba to Culture Corner.
Return to Your Language Guide home.

Stay in Touch with Language Lore ezine
Want to stay in touch? Subscribe to Language Lore, our internet language learning email newsletter. This free ezine facilitates your language learning journey. See our back issues here.

Go to your email now to confirmation your subscription. If you don't see an email within an hour (check your junk mail folder too), please contact us. We respect your privacy and never sell or rent our subscriber lists. If you want to get off this list later, one click unsubscribes you.