U.S. and Cuban Relations Today: End the Cuban Embargo and Let Us Travel
Note: Cuban embargo is part of a travel blog that we wrote during a humanitarian mission to Cuba. We are convinced that language opens a gateway to understanding culture. These pages focus on the culture of a country that has been relatively isolated for a half century. Our visit offered an opportunity to explore a place that few of our countrymen have seen. While we were there, we practiced Walkabout Language Learning to improve our Spanish and spent time with Cubans through a Jewish medical mission and informal encounters in Havana. See the list of "More Cuba Stories" on this page to explore how culture and language intertwine.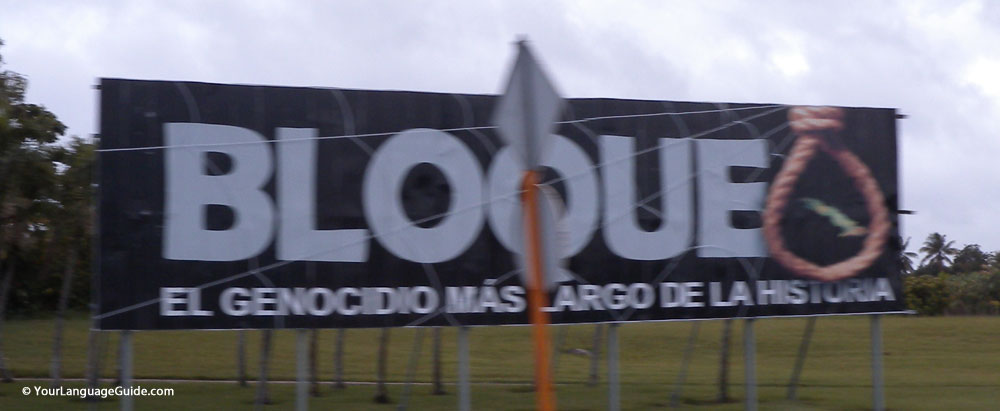 "Blockade - the longest genocide in history," proclaims the sign.
Ann Marshall
For more than 50 years the United States has stubbornly clung to its Cuban embargo in an effort to bring down Fidel Castro's regime with a punishing economic blockade. In addition the U.S. has severely limited travel to Cuba by individual American citizens. Obviously the Cuban embargo and the travel ban haven't worked to remove the Castros from power (as if it were our right to do so).
What the U.S. policies have done, however, is 1) make life more difficult for ordinary Cubans; and 2) make sure that few Americans have any first-hand knowledge of daily life in Cuba.
The Cuban Embargo: Key Historical Notes
The Cuban Embargo
The U.S. severed diplomatic relations and imposed the economic blockade in 1961 after Cuba nationalized all business and industry in the country, including American ones. The Cuban embargo made it illegal for U.S. companies to do business with Cuba. In the same breath, it made American travel to Cuba -- just 90 miles from Miami -- illegal.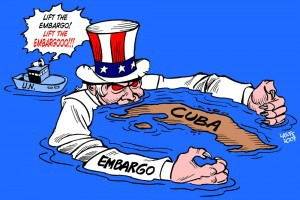 "The U.S. embrace"
The Helms Burton Act
In 1996, the U.S. tightened the Cuban embargo with the Helms Burton Act -- officially entitled "The Cuban Liberty and Democratic Solidarity (Libertad) Act of 1996." Its intent: to bring about "a peaceful transition to a representative democracy and market economy in Cuba."
Among its many provisions, the Helms Burton Act:
Prohibits recognition of a transitional government in Cuba that includes Fidel or Raúl Castro.
Provides for compensation of only the largest of claims for confiscated property, primarily only the claims of large multinational companies. It does not provide for the claims of individuals of the exiled Cuban-Americans whose personal residences were confiscated.

More Cuba Stories

The Trading with the Enemy Act
Before the 1959 revolution, Cuba was a major playground for American tourists. Today, the U.S. strictly limits American travel to only one country in the entire world: Cuba. We justify that policy under the Trading with the Enemy Act of 1917. In short, the American government classifies the Cuban people as our only enemies!
The notion is particularly quaint in the context of our post-cold war policies of economic, cultural and political engagement with the Soviet Union and China, our post-war rapprochement with Vietnam, and our current relationships with Iran and Syria.
It isn't as if Cuba had made itself off-limits to all outsiders, as North Korea and Kampuchea have done. Some two million Canadians visited Cuba in 2011, and hundreds of thousands of tourists descend on Cuba every year from Europe and Latin America. 

U.S. Diplomatic Relations with Cuba
The U.S. broke off diplomatic relations with Cuba in January 1961, closed its embassy in Havana, and arranged for Switzerland to handle U.S. affairs through a "U.S. Interests Section" in the Swiss embassy. Not technically an embassy, the "Interests Section" provides an official channel between the U.S. and Cuban governments.

President Obama Changes the Travel Ban
Here's a bright note: in 2011, the Obama administration made it easier for Cuban-Americans to visit relatives in Cuba, and adopted a policy of "people-to-people" licenses that allow groups of Americans to travel to Cuba for humanitarian and educational purposes.

Friends or Enemies?
Note: The following is the text of the President's 2011 renewal of the "Trading with the Enemies Act".

Cuban woman
The White House Office of the Press Secretary
For Immediate Release
September 13, 2011
Presidential Memorandum--Trading With the Enemy Act
Presidential Determination
No. 2011-15
MEMORANDUM FOR THE SECRETARY OF STATE
THE SECRETARY OF THE TREASURY

SUBJECT: Continuation of the Exercise of Certain Authorities Under the Trading With the Enemy Act
Under section 101(b) of Public Law 95-223 (91 Stat. 1625; 50 U.S.C. App. 5(b) note), and a previous determination on September 2, 2010 (75 FR 54459, September 7, 2010), the exercise of certain authorities under the Trading With the Enemy Act is scheduled to terminate on September 14, 2011.
I hereby determine that the continuation for 1 year of the exercise of those authorities with respect to Cuba is in the national interest of the United States.
Therefore, consistent with the authority vested in me by section 101(b) of Public Law 95-223, I continue for 1 year, until September 14, 2012, the exercise of those authorities with respect to Cuba, as implemented by the Cuban Assets Control Regulations, 31 C.F.R. Part 515.
The Secretary of the Treasury is authorized and directed to publish this determination in the Federal Register.
BARACK OBAMA

We Ask a Simple Question
Our driver, Osmel.
Ann Marshall

Our guide Mirelys.
Ann Marshall
Are the folks on this page the enemy? They are all Cubans we encountered on our trip to Cuba.

The new rules still require a U.S. government permit for Americans to travel to Cuba. They limit travelers to official government representatives, journalists, full time professionals conducting research or attending international conferences, American students studying in U.S. university-sponsored study abroad programs, people traveling for religious purposes with their congregation or representing their congregation. Still too limited, but better than nothing!
Curiously, Cuba doesn't stamp the passports of foreign visitors. It issues a separate card to each visitor, stamps that card on entry, then retrieves the card when the visitor leaves. It leaves no proof in a visitor's passport that he/she has been in Cuba.
The result: Americans willing to risk defying American law can easily fly into Cuba from non-U.S. airports -- most typically in Canada, Mexico and Central America -- without worry that a Cuban stamp in their passports will betray them.
My wife and I didn't chance that illegal dodge for our Cuban trip -- though in Cuba we met a few Americans who did. Our trip neatly fell into the religious purposes category -- we traveled under the auspices of the American Jewish community center in Atlanta to deliver medicines to Jewish clinics.

On U.S. Relations with Cuba: Hopes for the Future
So, 53 years after the revolution . . . are Cuban people our enemies?
They didn't seem like it. They were warm, engaging, welcoming. Everyone we met told us they were delighted to meet Americans . . . no hard feelings on the streets. But they're suffering; life's tough, and the Cuban embargo isn't making anything better.
In short, American diplomatic relations with Cuba are outdated. We need to:
End the Cuban embargo. This would open Cuba to American business opportunities, travel, and cultural ties. For the Cuban people, it would provide access to goods and services they need, but are currently denied, as well as support their efforts to develop their nation.
End the travel ban and open travel to Cuba for all Americans.
Nullify the Helms Burton Act and exempt Cuba from the Trading with the Enemies Act.
Elevate America's "Interests Section" in Cuba to full embassy status, then sit down with the Cuban government and negotiate the issues that divide us.

U.S. Interests Section looks like an embassy...in fact it was the embassy!
Note: I'm chuckling at myself as I write this blog: what a pipe dream, Terry! We can't even get Democrats and Republicans in Congress to agree to work together on anything of substance -- minor issues such as the national debt, health care, unemployment -- let alone open the Cuban embargo as a topic of consideration.
OK, I'm a realist. Nothing's going to happen on this issue in 2012 . . . or next year . . . or the year after that. But I want to be an optimist, too . . . someday, maybe someday, we'll be able to see beyond the end of our noses -- maybe as far as the 90 miles from Key West to Havana.
Until then, we wish a hearty adios y buena suerte to the people of Cuba. Their struggle continues.

Previous: After 50 Plus years of Castros
Return to beginning of Cuba blog: A flight into the past

2015 Update

In 2014, the Obama administration announced that they would like to re-establish relationships with Cuba. President Obama met with President Raúl Castro on April 11, 2015. It was the first meeting between leaders of the two countries in 50 years. Travel has since been loosened for some US citizens: missionaries, educators and students. However, tourist travel is still prohibited. Additionally, the US government has expanded the regulations around business licenses granted for US businesses.
It is a step in the right direction, but more is needed ...


Terry Marshall is a language and travel enthusiast and a writer who created Walkabout Language Learning. Follow my blog as I replace decades of old memories with new observations about the culture and the place in a series of posts on our humanitarian mission to Cuba. If you have visited Cuba, I encourage you to share your experiences or leave a Facebook comment below. If you have questions about my trip, please ask. To read more of my writing, click here.
Return from Cuban embargo to Language Lore

Visit Terry Marshall's Fiction page

Or go directly to Terry's Cuba blog summaries

Stay in Touch with Language Lore ezine
Want to stay in touch? Subscribe to Language Lore, our internet language learning email newsletter. This free ezine facilitates your language learning journey. See our back issues here.

Go to your email now to confirmation your subscription. If you don't see an email within an hour (check your junk mail folder too), please contact us. We respect your privacy and never sell or rent our subscriber lists. If you want to get off this list later, one click unsubscribes you.