Cuban Life: On Visiting with Locals in Havana . . . and Hanoi
Note: Cuban life is part of a travel blog that we wrote during a humanitarian mission to Cuba. We are convinced that language opens a gateway to understanding culture. These pages focus on the culture of a country that has been relatively isolated for a half century. Our visit offered an opportunity to explore a place that few of our countrymen have seen. While we were there, we practiced Walkabout Language Learning to improve our Spanish and spent time with Cubans through a Jewish medical mission and informal encounters in Havana. See the list of "More Cuba Stories" on this page to explore how culture and language intertwine.
More Cuba Stories

"I love this book, Lady." Ann poses with Lennon statue. Havana, Cuba.
Terry Marshall
Cuban life surprises us with incongruities. Not far from our hotel in Havana, we stop at Parque Lennon and pose like Las Vegas tourists beside the life-size bronze statue of John Lennon at rest on a bench.
Yep, John Lennon, the Beatle . . . not Vladimir Lenin, the Commie (who, incidentally, has his own monument on the outskirts of Havana . . . much larger, and we hear, much less often visited).
But John Lennon . . . in Havana?

Yep, and Fidel himself unveiled the statue on the 20th anniversary of Lennon's death in 2000. Though Cuba's dictator derided the Beatles' music in their heyday -- Western decadence, he scoffed then. When Lennon became an outspoken critic of U.S. involvement in the Vietnam war, Fidel reevaluated his taste in music. All the while, Cubans, like everyone else in the world, loved the Beatles.
We are a group of seven Americans bringing medical supplies to Jewish clinics in Cuba. We've delivered our gifts, and now we're full-time tourists, eager to learn something about Cuban life. So far today, we've been to José Fuster's crazy-wild art gallery and studio, the Julius and Ethel Rosenberg memorial (another legacy of Cuba's Mother Russia days), and now Parque Lennon.

Cuban Life: From Public Park to Private Home
"We're only a couple of blocks from my house," our guide, Mirelys tells us. "Would you like to see it?"
Would we ever! We're dying to see the inside of a real Cuban's home, get a feel for daily Cuban life.
Besides, for several days now, we've heard so many stories about her six-year-old Sabrina that we have adopted the girl into our "family." Two days ago, she had been throwing up, but she's OK now. She has suffered through her final exams. Yep: kindergarteners in Cuba take final exams! And just this morning she eagerly embarked on summer vacation. She stays next door with a neighbor when mom is off shepherding tourists.

Our tour guide's home.
Ann Marshall
Our van turns off the tree-lined boulevard and maneuvers through streets so narrow we merely inch along.

"There! Second story. Those windows there." She points to the upper floor in a section of two-story row houses, drab as a Sixties American housing project, the kind of place most universities have replaced in their student family housing inventories. "When we build on to our houses, we build up, she says. "That's why I'm on the second floor."
No matter: I've traveled abroad enough to know you can't judge the beauty or comfort in a home by its external appearance. Sometimes, blemished walls hide homes to die for.
Osmel, our driver creeps past, finds space enough to squeeze halfway off the road. We jump up; we're eager for a slice of Cuban life.

Mirelys waves us back into our seats. "I can't invite you in," she says. "I'd love to . . . I want to, even though it's a mess inside . . . but our company won't allow it. We can't have clients in our homes; they would fire me." She's nervous. "We have our own neighborhood watch," she says. "Only it's not like yours; here, neighbors report 'questionable' behavior to the authorities."

Protest in Cuba? Ask the Ladies in White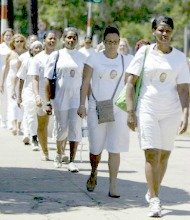 Cuba's central government runs everything about Cuban life: not only social services such as education, health care, and housing, but the economy itself. It owns the nation's businesses, industries, and farms. It controls the press.
Cuban life is difficult; even government-paid professionals don't earn a living wage. Critics complain of political oppression and censorship. Citizens aren't free to emigrate at will. It's not a free society; it's a dictatorship.
Are Cubans free? Are they oppressed? I have no idea -- not after eight days in Cuba as a tourist.

The State of Dissent
It is clear, however, that Cuba has its dissenters -- Cubans do criticize the government; they do speak out. And some have suffered for it.
Take the Ladies in White, an opposition movement of wives and other female relatives of 75 dissidents summarily arrested, tried and imprisoned in 2003. All were human rights defenders, independent journalists, and independent librarians. The women protested the imprisonments by attending mass each Sunday wearing white dresses, then silently walking through the streets of Havana.
Their actions generated international opposition to Cuba's treatment of dissidents, and earned the ladies scorn and violent reactions from government sympathizers -- but also the 2005 Sakharov Prize from the European Parliament. The prize honors individuals or organizations who have dedicated their lives to the defense of human rights and freedom of thought.
Gutsy ladies, these women! And they're still at it.

Suddenly, we've put her in an awkward spot. She chokes a bit and slumps out of the van. Moments later she's back, a smiling, proud mom, her daughter at her side. Sabrina is cute as could be: button nose, pony tail, broad smile, missing tooth. Sabrina hops into the van, hugs everyone within reach, whispers a barely audible "Buenos días" to us all.
Sabrina is with us for a couple of minutes . . . maybe three, before her mother shoos her out of the van and into Señora Neighbor's care. Then we're off, on our way to the Cohiba cigar factory to watch them make those famous Cuban cigars by hand. Sabrina is waving. We wave, too, as our hoped-for peek inside Cuban life recedes in the rear-view mirror.

Havana and Hanoi: A Guided Contrast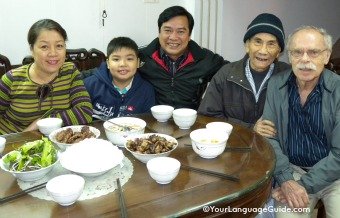 We share authentic Vietnamese food with our guide's family.
Ann Marshall
The van falls silent on the trip to the cigar factory. I think about Mr. Cong, our Hanoi guide in Vietnam a couple of years ago. In the late '60s, Cong spent five years in the jungle fighting in the North Vietnamese Army. We talked openly about the war -- The American War, they call it -- and about the failings of our two governments. In our few days in Hanoi, Cong twice treated us to dinner at his house -- he wanted us to meet his wife, son, and father . . . and partake of typical Vietnamese meals.

Cong took us down back alleys and into homes of friends in the neighborhood where he grew up. He and his wife lent us their winter coats for our three days in Sa Pa in the mountains. When we returned, he took us home again after our all-night train ride so we could use his shower and take a nap before we left Hanoi for good. Cong invited us to return -- he wants to take me by motorcycle on the Ho Chi Minh trail, all the way from Hanoi to Saigon, the route he slogged in 1968.

José Fuster, Picasso of the Caribbean creates art throughout his community.
Ann Marshall
In Cuba, we didn't go into anyone's home. We got a few insights into Cuban life there, but we didn't talk freely with our guide about the Castro government, or the propaganda that dominates the exhibits in the Museo de la Revolución. We didn't press; they seemed beyond her comfort zone.

"We can discuss anything you want . . . but in the privacy of my 'office'," our guide told us, gesturing toward the van. Somehow, we never got back to the touchy topics. There were always too many sights to point out, too many historical footnotes to explain.
The wounds of war -- and maybe especially a continuing Cold War -- heal slowly. Perhaps when this one finally ends, we Americans will be as able to explore Cuban life in Havana as we were in Hanoi.

José Fuster

José Fuster is a Cuban artist. We were entranced by his works of art when we visited "Fusterlandia." Click on the images below to open a gallery view and see them full size.

Previous: All-inclusive Cuba
Next: 53 years of progress? Life in Cuba


Terry Marshall is a language and travel enthusiast and a writer who created Walkabout Language Learning. Follow my blog as I replace decades of old memories with new observations about the culture and the place in a series of posts on our humanitarian mission to Cuba. If you have visited Cuba, I encourage you to share your experiences or leave a Facebook comment below. If you have questions about my trip, please ask. To read more of my writing, click here.
Return from Cuban life: Visiting with locals in Havana to Language Lore

Visit Terry Marshall's Fiction page

Or go directly to Terry's Cuba blog summaries

Stay in Touch with Language Lore ezine
Want to stay in touch? Subscribe to Language Lore, our internet language learning email newsletter. This free ezine facilitates your language learning journey. See our back issues here.

Go to your email now to confirmation your subscription. If you don't see an email within an hour (check your junk mail folder too), please contact us. We respect your privacy and never sell or rent our subscriber lists. If you want to get off this list later, one click unsubscribes you.