The Whole World Guide to Language Learning
Reviews | Excerpts | Buy Now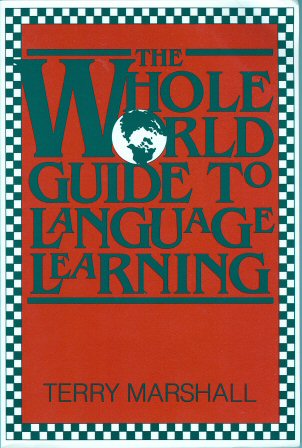 The Whole World Guide to Language Learning is summarized in these webpages.
You've learned the three strategies of the Walkabout Language Learning method: Set Goals, Recruit Mentors, Practice Your Skills.
Combine those with the five steps of the Daily Learning Cycle:
You are on your way to language mastery.
We've summarized these techniques here on our website, but Terry's book gives a detailed description of each step, sample lesson plans, tips on selecting a mentor, plus lots of suggestions about how to structure your learning. It offers tons of creative ideas to turbo-boost your language abilities.
To look at the table of contents, read sample pages, see what others have said about the book, or buy it, click on the links at the top of the page.
Not sure if you're ready to buy this book or not? Try our condensed Walkabout Language Learning Action Guide. It contains step by step instructions to help you succeed with your own language learning program. Click here to download it today.
Write a review of The Whole World Guide to Language Learning
Have you read this book? Share your customer review here.
What Other Readers Have Said
Click here to see other reader reviews.

Bit disappointed! Not rated yet
It wasn't the book I thought it was! For those having the specific focus of the book it might be of benefit but to me looking for somewhat broader principled …
A useful first guide to language learning Not rated yet
Despite its age (it was published in 1989), I found this book to be a useful addition to my collection on language learning. I like the fact that it's …
Return from Whole World Guide to Your Language Guide home
Return to Your Language Guide home
---