Terry Marshall:
Helping Individuals Learn Language, Understand Cultures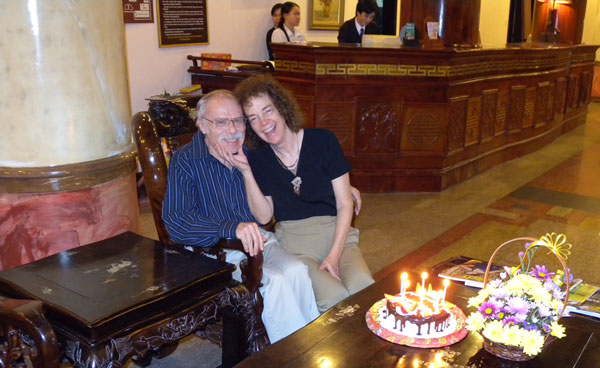 Terry and Ann on a recent visit to Hanoi, Vietnam.
Hi, I'm Terry Marshall. My wife Ann and I spent seven years with the U.S. Peace Corps, two as Volunteers in the Philippines and three as Country Directors in the Solomon Islands, Kiribati (Gilbert Islands), and Tuvalu (Ellice Islands). Read my short Solomon Islands story, "By Canoe Into My Father's War." I also worked two years in the Washington, DC headquarters.
The Philippines Opens Our Eyes to Language Learning
Ann and I studied Tagalog feverishly in Peace Corps training prior to departure for the Philippines. When we arrived, I gave a short speech – in Tagalog – at the welcoming ceremony in Tacloban City. After my speech, people clapped, complimented me on my ability …then told me politely that in Tacloban, they spoke Waray-Waray, not Tagalog.

After 10 weeks of exhausting study, bam, we started all over again - this time with no trained language teacher, written materials, or any how-to knowledge.
We quickly realized we had to show native speakers how to teach us their language if we were to communicate with local folks. We also learned we had to master not only language, but a vast, complicated, unwritten set of cultural values if we were to get along without offending people.
And guess what? The rewards came. Our new friends exclaimed over our progress. We began to put the culture-puzzle pieces together. And we came to understand ourselves and our own heritage at a much deeper level.

Terry Marshall Faces New Challenges in the Solomons
As Peace Corps Country Directors in the Solomons, once again we had to guide our own language learning – no trained teachers or written materials existed in the local language. More importantly, as Ann mentions, we had to develop a program to teach our Volunteers how to learn not one but two languages: Pijin and the language spoken in their village.
After I returned to the U.S., I expanded on the principles and wrote The Whole World Guide to Language Learning. Our daughter Leslie, was the first "guinea pig" in testing the expanded principles: she carried the final manuscript with her as an exchange student to Sweden. And now she has agreed to be the webmastress for this site.

New Horizons: Tackling Language Learning at Home
Today, we''re caught up (again!) in what seems a life-long quest to improve our Spanish. This time, we are using the same techniques we share on this website to explore how we can tap the rich Spanish-language environment around us. Read our Peru blog.
Our aim is to take language beyond the classroom and into the community; call it "Spanish for the neighborhood." We are also working on ways to maximize language and cultural learning in travels to other countries, whether for business, education, or vacation.
Besides these interests, I write full time about the personal growth (and heartache) that can occur through cross-cultural interaction. Read some of my short stories and essays on this site. Watch for continuing updates to Terry Marshall fiction and essays.

Anyone Can Learn New Tricks -- Even You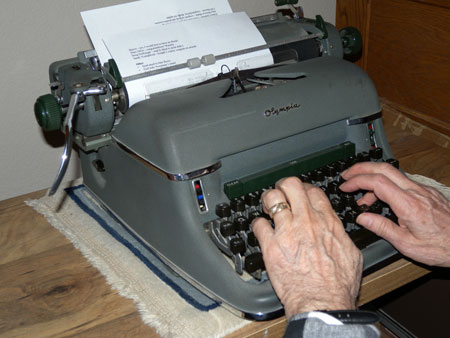 My dad gave me this when I graduated from high school in 1959. I still use it--nearly 60 years later.
Together with my daughter Leslie we've built this website to share our ideas about language learning. To be honest, she has done most of the legwork to set up this website. We talked about what we wanted to share and then she did the research to find popular keywords and wrote the ... what do you call it ... h ... t ... m ... l. When I started this website, I didn't know what that was. Now I know that it is a programing language used to make websites.
I was born in the days before computers, and although I find them indispensable in my writing career, they drive me crazy. If you are from my generation -- and you typed your term papers on a typewriter -- then you know how frustrating it can be to learn new tricks. I still have my typewriter -- yes, that's me typing on it -- and I still love it. But I can love my typewriter at the same time I embrace the wonders of the Internet.

Best Wishes from Terry
I hope that our experiences will enhance your ability to appreciate other cultures and other languages.
--Dr. Terry Marshall

After I saw how successful my daughter was (and how much fun she was having) with our language learning website, I decided to build a website for my new novel. I had just published Soda Springs, and I knew that I needed the internet to market my book. I created www.TerryMarshallFiction.com. As I mentioned, I'm not a computer whiz. I'm tenacious and pursue my goals with determination, but frankly, sometimes the computer bugs the hell out of me. Maybe it's the computer "bugs" that bug me.
I used Site Build It! (SBI!) to create my new website. They provide all the tools that I needed to build my website. I learned about keywords -- the hooks that bring visitors to my website. I didn't have to learn much about html because they have an easy-to-learn interface that let me build my site with blocks of code. I click and drag to select the layout for my page, then I type in the text, and SBI! creates all the "code" in the background. I don't have to worry about any of that technical stuff.
If you think you want to retire, or even if you want to work from home, I highly recommend this website building software.

Oh, and about that ice-cold Coke...
on the uninhabited island? Two hours after I made my goofy joke, a trio of young men (who had slipped away unnoticed by me) rowed back into sight with Cokes for all. Warm, of course.


The lesson learned in the Terry Marshall School of (Cultural) Hard Knocks? Think carefully about jokes that might be funny in your own culture. Humor doesn't always translate directly - what is clever in one culture may be troublesome or downright offensive in another.

Return from Meet Terry Marshall to Meet Your Language Guides

Return to Your Language Guide home 

Stay in Touch with Language Lore ezine
Want to stay in touch? Subscribe to Language Lore, our internet language learning email newsletter. This free ezine facilitates your language learning journey. See our back issues here.

Go to your email now to confirmation your subscription. If you don't see an email within an hour (check your junk mail folder too), please contact us. We respect your privacy and never sell or rent our subscriber lists. If you want to get off this list later, one click unsubscribes you.