Meet Ann Marshall:
Aural Language Learning plus Cultural Understanding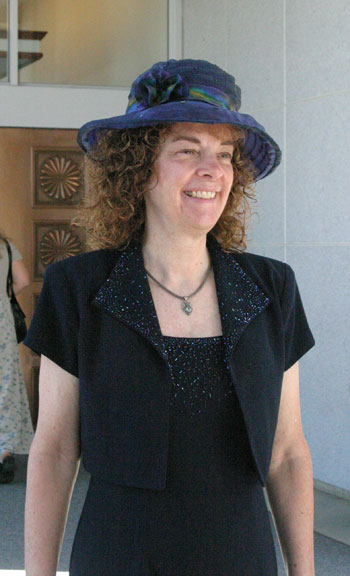 Ann Marshall
Hi, I''m Ann Marshall. My early efforts at learning French at the University of Colorado were influenced by a dynamic lady who swept into our classroom and spoke to us only in French, never mind that we had no idea what she was saying. She plunged us into reproducing the sounds of the language before we cluttered our minds with definitions, grammar, or spelling.
After marginal success in earlier efforts to learn Italian, Spanish, French, and Russian, I found her aural language approach (which at the beginning called for us to listen carefully and repeat what we heard without looking at written words) refreshing and helpful.

Peace Corps Fosters Language Learning

I carried that lesson and our experience as Peace Corps Volunteers learning both Tagalog and later Waray-Waray from native speakers (as my husband Terry describes) to the challenges in the Solomon Islands. As Peace Corps Country Directors, we had to teach new Volunteers Pijin (the language of communication across language groups) plus the local language in each Volunteer's village, where neither trained instructors nor written materials existed.
While Terry developed the overall dual-language program, I worked with a Solomon Islander to translate a textbook for teaching our Volunteers Solomon Islands Pijin, then trained a troupe of local people as mentors.
Culture and Language Learning Go Hand-in-Hand
In the process, we came to admire Solomon Islanders and their culture. We love how Pijin combines words from different languages to achieve rich meaning, and how the language portrays important cultural values, such as their broad view on diversity.
In the Solomons, I also had a very special cross-cultural experience: our second child, Shawn, was born at the country''s only hospital, Numba Naen (say it out loud; it''s Pijin for Number Nine).

These days, I do diversity and cross-cultural training, help organize and manage community discussions, and mediate disputes as a volunteer with the Clark County (NV) Neighborhood Justice Center.
I also help with the family business of developing websites to support our passions, whether it is language learning, fiction writing, or who knows what's next? How? I use Site Build It!, (SBI!) which helped us build the content that generates web traffic. SBI! showed us how to pre-sell that traffic which lead us to monetization. You can do this, too, no matter what your passions or your skills are. Make this the first day of the rest of your life. You'll be glad you did.

Learning a new language is like driving in Ho Chi Minh City
Driving [like language learning] is a cooperative enterprise, not a competitive one. The shared objective of all drivers and pedestrians [and language learners] is to get to their destinations safely and efficiently.
The first day we were in Hanoi, our guide demonstrated how to cross the street by grabbing my arm and plunging into the path of 115 oncoming motorbikes, insisting that I not look at them at all. [Similarly, you must plunge in when learning a new language.] Amazingly, we did not get run over; rather everyone just steered around us, as if it was no big deal (yes, I peeked at the oncoming horde).
Similarly, it is a little disconcerting to the average American driver (like me) to be in a car that turns left directly into the path of the thundering horde of motorbikes, trucks, and buses, only to see that they flow around the car like a river around rapids. But unlike rapids, the car keeps moving into the desired left turn. It looks like chaos, but it is more like a complex, spontaneous choreography.
--Ann Marshall
Oh, about that cultural cue...
...I missed at the restaurant with my students? Prior to ordering, casual discussion around the table revealed everyone''s preferences and dislikes. Through indirect comments like, "I''ve heard that the pancit [a sort of pasta] is very good here," my students let me know their choices. In Philippine culture, The Most Important Guest orders first and, at least in our area, all diners followed suit. The Most Important Guest? Me? Ann Marshall? Gee, the Deputy Governor was one of the chaperons!

I was chagrined, then embarrassed, then completely dismayed as every single student and chaperon ordered vanilla ice cream (and nothing more) for dinner, including the Deputy Governor and my favorite student, whom, I knew, never touched the stuff.
Lesson learned in the Ann Marshall School of (Cultural) Hard Knocks? (Yes, everyone should keep a list of personal lessons learned.) Pay attention to the conversation under the radar and watch for patterns in how people show deference: Who gets special treatment? How do people show respect for others?

Learn from the Experiences of Ann Marshall
Please take us along on your language learning journey. Profit from our experiences. Share your insights with us. Let us cheer you on. And above all, enjoy the adventure. Keep up to date on our latest tips and ideas by subscribing to our language learning email newsletter. You'll find articles from Terry and Ann Marshall as well as culture and language learning anecdotes.

We are delighted that our daughter Leslie, who accompanied us on some adventures and has had many of her own, has agreed to be the webmastress for this site.

Return from Meet Ann Marshall to Meet Your Language Guides

Return to Your Language Guide home

Stay in Touch with Language Lore ezine
Want to stay in touch? Subscribe to Language Lore, our internet language learning email newsletter. This free ezine facilitates your language learning journey. See our back issues here.

Go to your email now to confirmation your subscription. If you don't see an email within an hour (check your junk mail folder too), please contact us. We respect your privacy and never sell or rent our subscriber lists. If you want to get off this list later, one click unsubscribes you.