Introduction to
Walkabout Language Learning™
Walkabout Language Learning™ can help you learn a foreign language. If you are reading this page, you have already learned one language successfully. Perhaps you are exploring different language courses, the information in this website will help you create your own language study abroad program. You can build on formal classroom instruction, or you can create your own study plan and get a great bilingual education.

You may be completing a study abroad program, volunteering, or working for a multi-national company, or you might want to learn a second language just for fun. Here is one of our Peace Corps Volunteers who used Walkabout Language Learning™ to learn Pijin so she could chat with her Solomon Islander friends. What ever your reason for learning a foreign language, Walkabout Language Learning will speed you on your way.

When you learned your native language, the first rule was imitation. The fundamental idea of turbo-boosting your language learning is to mimic the learning style of a child learning his native language. An infant doesn't have to sign up for expensive language courses, he learns it naturally from the environment all around him. While this technique is most effective when you are immersed among native speakers in their home country, you can do it anywhere you find a group of speakers of your target language.

You may be thinking ... "That's easy for you to say, but I'm an adult now. I'm embarrassed to make mistakes and act like a child again." If so, download this free audio file: "How to overcome the obstacles of fear, embarrassment, and anxiety."

I once used Walkabout Language Learning™ to study Arabic--while living in Denver. I found a Syrian family that lived near-by. I studied Arabic with the girl in the family who was near my age and we had weekly foreign language lessons. I coupled these language lessons with practice sessions with the other members of the family. For example, we had a family meal together. I expanded my practice by spending a weekend with a Palestinian family (also living in Denver) and went on excursions to the Arabic grocery store in town. I didn't have to participate in a study abroad program to improve my Arabic skills.
Manage Your Own Learning
This approach differs from traditional language courses because you direct your learning, you decide on your overall goals, and you guide your study today, tomorrow, and the next day. Becoming a partner in your learning is an exciting challenge, and the payoff – in learning language and culture uniquely tailored to your needs – is worth it. You don't have to be an expert in bilingual education to succeed with this method.
Walkabout Language Learning™ can be used at any point in your foreign language quest – at the very beginning when you struggle to say a few basic sentences, or later on, during or after formal lessons. You can use it as a companion to formal language courses that helps you hone your skills to meet your special needs. You can use it in your local town or while participating in a study abroad program.
Use the Environment to Learn
A first step is to adopt the techniques of a child-learner, examining the world around you for opportunities to practice, to increase your skill. Come for a short bus ride to see how a child learns to speak.
What can you learn from a child? Do what children do when they are learning their mother tongue? Repeat new words and sentences again and again. Be willing to make lots of mistakes. Practice frequently with native speakers. Combine these with pointing, gesturing, and occasional tantrums … ok, you can skip the tantrums. Add a childlike attitude that includes humility, banishes self-consciousness, embraces a willingness to try over and over, and seeks to be like Mom, Dad, siblings – or other native speakers.
Think of yourself as a child in the new language. Tell your friends, "OK I'm new at this. Help me. Show me what to do." If you have enlisted their support, you don't have to feel like an idiot, even when you slip up on the easiest of tasks.
Walkabout Language Learning Strategies
We call this method Walkabout Language Learning™ because you are learning the language in a situation where you are surrounded by your target language; to learn effectively, you must walk about in the language environment and talk about what you know. You might even say it is the Walkabout Talkabout method. Using this method, you can direct your foreign language study to learn practical language that is useful immediately.

You may already know some basics, you may have a good foundation, or you may know nothing more than "Hello." No matter your level, with the Walkabout method, you build according to your needs. To do this, you follow three basic strategies.
Set language learning goals
Recruit mentors - native speakers to help you learn what you need to know
Practice your skills in the community.
If you are ready to get started, download the Walkabout Language Learning Action Guide. Or
Continue to: Walkabout Language Learning Strategies
Related Article
Review of Ultimate Language Secrets. Get more language learning tips from expert Owen Lee.



Return to Your Language Guide home
---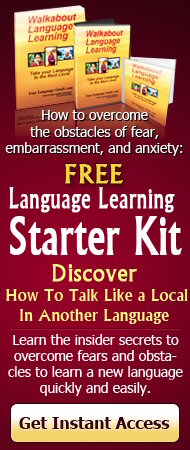 The Origin of Walkabout
This [methodology] has its roots in the Philippines. In 1965, after ten weeks of intensive training in Tagalog, the Peace Corps sent my wife and me to Tacloban City, Leyte, where people speak not Tagalog, but Waray-Waray. On our own, we struggled to a passable ability in our new language. --Dr. Terry Marshall
---
Now Available Study Abroad Handbook
Planning to study abroad? Having a hard time choosing a program?
Check out our helpful guide "How to Choose an International Study Abroad Program."
Best of all, it's a FREE download.


---
Multicultural Literature
Check out the latest additions to our multicultural literature section: Multicultural Stories.

This section offers both fictional and non-fictional stories and essays set in regions around the world. You can read them on line for FREE.


---