Learn Spanish Free Online
Fast, Free, and Easy. That's what readers want. I'll show you where to learn Spanish free online. Here's my opinion about learning Spanish fast and easy. I save you time in your language learning journey because I've explored a lot of the free Spanish resources out there for you so that you can get to work on learning Spanish. You save time and money because I'm constantly looking for the best free sources.
If you do a web search to learn Spanish free online, you'll be overwhelmed with the options. There are tons of websites that promise you can learn spanish free online. Which one should you choose? Fact is, they aren't all the same quality, and most of them cost something. Many of them offer you a smattering of free resources to show you what they've got, then ask you to pay a monthly fee to access the rest of the lessons. I will help you find the most useful free resources so that you can get on the road to fluency fast.
Let's start with my top three picks to learn Spanish free online.
BBC Spanish Pages

Coming in first place is BBC's Spanish course: "Mi Vida Loca". Wow! Bet you're surprised. BBC? What? I thought BBC stood for British Broadcasting Company. I remember listening to their news broadcasts over the shortwave radio when I lived in the Solomon Islands. They always sound so important with their crisp British accent.
Why BBC? Because they are free! Yes. All of the resources on the BBC Spanish pages are free. And they are good. The interactive course called "My Crazy Life" is the most enjoyable resource they offer. With his calming barritone, the narrator, nicknamed Your Phrasebook guides your journey to learn Spanish. The course is exciting, the learner becomes a visitor to Spain as an intriguing plot unfolds. The cinematography makes you feel like you are actually there; the dramatic music creates suspense; and Your Phrasebook's Spanish accent seasons the experience. It is interactive and engaging. The nice thing is that you don't have to create an account or register to use this course which means no advertising email cluttering your inbox.
In addition to "My Crazy Life," BBC offers other free Spanish resources. This part of the BBC learn Spanish free online is not as strong. There are lots of links on this page, but there is also a disclaimer at the top of the page indicating that the content has not been updated in a while, and it shows. I found some broken links and some of the resources would not load--like the online video tutorials. However, you can find a good number of resources on this page: links to vocabulary lists, phrases, even a section about Spanish slang. And of course, since the BBC is in the news broadcasting business they have two dozen links to Spanish news stations around the world.
In spite of its weaknesses, I think the BBC resources are a great place learn Spanish free online, especially, if you use the twelve week "Mi Vida Loca" course.
Curso de Espanol

Second pick is Curso de español. It makes the list because it is all free, and you don't have to register to use the resources. There is nothing to buy -- when I visited, the shop was empty with a notation that said "The manual and additional products will be available to you soon." Most of the instructions on this website are in English, but it is a German website, so a few areas include some German. It do not get in my way to learn Spanish free online.
What do you get?
Grammar -- hundreds of grammar explanations. They have twenty plus sections of grammar each with an average of ten explanations in English with several Spanish examples. The website claims they have 2200 sample sentences with audio pronunciation or video explanations.
Promenades -- seven films introduce you to Spanish spoken by native speakers all over the world. These are good to watch and listen too. They are photograph slide shows. You listen to native speakers and can read along with the Spanish text on the right side. Although there is no way to interact with these films, it is a nice way to familiarize yourself with the sound of spoken Spanish, and to hear different accents.
Exercises -- choose from dozens of exercises. You can do written exercises with fill in the blank or multiple choice questions, or choose listening comprehension exercises in which you listen to a short text, then answer questions about what you heard. You fill in the blanks, then click a button to check your answers.
Chat room -- The chat room doesn't appear to have much activity.
There is a wealth of resources on this site. The main weakness of this site is a feeling of incompleteness. It appears to be a website under construction or a project which was abandoned. The reason that this site makes the list is because of the quantity and variety of the resources and the fact that there is no obligation to sign up or any pressure to buy anything. This site lets you learn Spanish free online with no strings attached.
Livemocha
Livemocha takes third place. I tried Livemocha initially in 2012, and was turned off by men trying to contact me. One of the components of Livemocha is that native speakers in other countries can critique and correct your efforts. My initial experience felt like I was in a foreign language dating scene--men contacted me for "language practice," but they started the conversation by saying, "You are very pretty." Were these men interesting in language learning or ... something else?
Luckily, Livemocha made a significant platform change in 2013. They eliminated the profile search that used to be available. Now, you can select "language partners," but only through the "Help Others" section of the website, usually after that person has helped you. If you give the person a thumbs up after they review you, Livemocha asks if you want that person as a language partner. And it is a double opt in process. Everyone has a real name, instead of a funky made-up username. It helps people maintain accountability for their comments. (I hate reading comments from "JonnieSoleFly" or "DuctTaper." "PetiteJean" summed it up on one website that I saw: "This is so dumb." Yes, those annoymous people hiding behind made-up names usually do make comments that are "so dumb.") If you haven't tried Livemocha in a while, it might be time for a second look.
How much does it "cost?"
Livemocha is free. Sort of. You buy lessons either with beans or points. You get points for correcting other people's work and for taking the lessons. For example, you might earn 900 points for reviewing another person's response to a lesson. Or you might earn 500 points listening to a lesson (you get more points even if you repeat the lesson) or 20 for answering questions in a lesson. Then you can use your earned points to "buy" more lessons. With Livemocha, you can learn Spanish free online, but you have to work.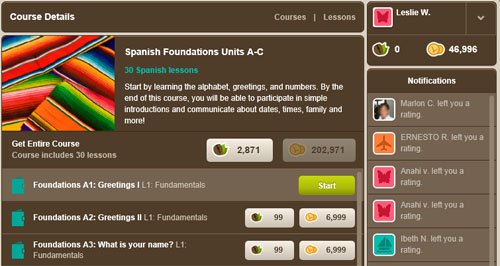 With over two hundred lessons, you have access to a wealth of resources to learn Spanish free online. As I mentioned, you earn points by reviewing others and by taking lessons. Points can be redeemed for lessons. Lessons cost about 7000 points or a course for 200,000 to 400,000 points depending on the number of lessons. That means that you might need to review seven to ten other people to "buy" a lesson. If you have more money than time, you can buy "beans." Beans cost a penny or less depending on the quantity you buy which means that lessons cost about $1.00 USD. A course costs $30-$50 depending on the number of lessons.
Livemocha's strength is that you get feedback from real people. It is a living website with an active community. After you listen to a lesson, you can respond to questions. You can respond in written form or by recording your voice. Then you submit your response for feedback from the community. Feedback comes quickly, within minutes. It is mostly kind and helpful, but occasionally you run into someone who is rather blunt about your errors. I felt nervous submitting my first responses, but the majority of the feedback is thoughtful. You get multiple ratings per submission.
What do you get?
You listen to a lesson, then review vocabulary flashcards. The flashcards offer a word and when you to flip the card over, you can read the definition in Spanish, which is a cool feature. Seeing the definition in Spanish treats you like a real Spanish learner. I found it to be a great way to expand my vocabulary. Even if I already then the word on the flashcard, the reading the definition in Spanish extended my learning. At any time during the lessons, translation available with the click of a button.
After you listen to the lesson, you have an opportunity to respond to questions. You can respond in written form or by recording your voice. Then you can submit your response for feedback from the community. Feedback comes quickly, within minutes. Mostly the feedback was kind and helpful, but some reviewers are blunt about your errors. I was nervous submitting my first responses, but after several helpful reviews, it got easier. You get ratings from multiple people for each submission.
I did notice that the platform had some bugs. I got an error message at the end of each lesson. Also most of the feedback appeared as duplicates. For example, on one lesson that I submitted, I got responses from eight people, but there were seventeen notifications because some of the comments displayed two or three times in my inbox. You do have to register and create an account in order to access the lessons, which means that you will start receiving advertising email from Livemocha and offers to buy Rosetta Stone.
Of the three learn Spanish free online websites that I review on this page, Livemocha has the best combined quality, "freshness" (the content is updated regularyly), and interaction. However, I put it in third place since the focus of these reviews is to learn Spanish free online. While you don't have to pay money to use Livemocha, you do have to pay with your time, and after you registar, they will send you regular emails three or four times a week. You can unsubscibe if you want.
Note: By the way, Livemocha offers over thirty languages. Check out the complete list.
In summary, if you want to learn Spanish free online, these are three free sites that don't force you to pay money in order to access their content. Ready to take your language learning offline? Read about how we used real world Spanish to learn Spanish for free.
---
Check out the other Spanish learning resources on our site:
Learn Spanish Vocabulary
Learn How to Study
Speak Spanish
Attend a Language School
Find a Mentor
Return from Learn Spanish Free Online to Learn Spanish
Return from Learn Spanish Free Online to Your Language Guide home