Free Spanish Lessons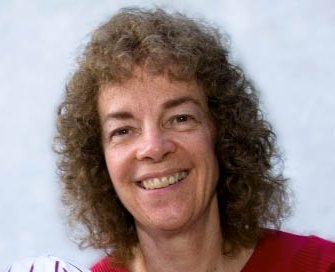 Note: This free Spanish lessons page is part of a series of blogs that we did while learning Spanish language in Peru. Each blog focuses on ideas to use while learning a new learning. They are designed so show you how to implement Walkabout language learning strategies. Most of our ideas, like the ones on this page are free language learning ideas. Use our examples here for any language you want to learn. See the "More Peru Stories" list of links on this page for additional free language learning strategies. Also see our Learn Spanish section
We're surrounded by free Spanish lessons –- micro-lessons, that is. Here we are in Cusco, Peru. Just arrived five hours ago.
The realization about the free Spanish lessons came into focus in Miami yesterday, where we spent about seven hours. Seven hours, you ask? Well, yes, though it wasn't all contiguous.
We arrived with sufficient layover for the three-mile hike from our arrival gate to meet my brother-in-law and our niece for a late lunch. (Those nice Miami people even have mileage signs posted for the hapless travelers scuttling through the construction maze from one terminal to another; take heart folks, Terminal E is only 19 more minutes away!) Then back to Terminal A for our flight, where we spent an extra hour on the ground – strapped in – while the airline retrieved the suitcase of a woman who didn't show after she checked in her baggage. Can't be too careful.
Airborne, finally. Briefly. But wait! The windshield is cracked. The captain thinks we should return the plane and get another. No vote, but we all agree. So what if we spend another 2-3 hours hiking to our new gate and jostling fellow passengers to get the $10 voucher for a snack, then vying for the available munchies around the gate? It's all an adventure.
But I digress. Miami is truly a bilingual city, and the airport exemplifies that. Practically all the signs are in both English and Spanish. So if you didn't already know, entrada = entrance; salida = exit; and bienvenidos = welcome. Learning a new language starts even before we leave the country. Terry gives more ideas about learning a new language in your own country.
Further, all the loud speaker announcements are bilingual. I listen carefully to the English, then even more carefully to the Spanish translation. These free language learning ideas can work for everyone. For a newbie learner, you try to pick out those words that are based on the same root word, like destinación (destination, of course). I know, I know; it didn't sound like it, but this is risk-free learning – no one's the wiser if you missed it the first five times.
Those with more advanced skills (assess your language level here) can try their hand at eavesdropping on the multitude of Spanish conversations. (I know, it's rude if you do it in your own language, but in someone else's language, it's just one of many free Spanish lessons. Besides, it makes you feel like a private eye, as you figure out what people are talking about.)
Back to the translated signs . . . some are complete sentences and paragraphs that give you an introduction to learning a new language by allowing you to study the composition of sentences and ferret out new vocabulary words. Take this from a sign on the plane: Abroche el cinturon al estar sentido. Translation: Fasten seat belt while seated.
Hmmm. Abroche must mean fasten. A command ending with an e . . . Must be an –ar verb. But it doesn't sound like a regular verb . . . Will have to listen for other uses of the word. Find out more about how to learn Spanish grammar here. Cinturon I recognize as something to hold up your pants; guess it applies to holding you in your seat, too. I also recognize the final three words – "at to be seated" – though I wouldn't have known how to put them together. Stash that in memory, too, and watch for other free language learning examples.

If you'd like to try the same techniques we're using, we recommend that you download the Walkabout Language Learning Action Guide. It will show you how to create your own tailor-made language learning program.
OK. Enough of the free Spanish lessons for today. After the delays in Miami, we didn't arrive in Lima until 2 am. Hotel by 3, sound asleep by 3:15 – a 24-hour day. We were up yesterday at 2:30 a.m. 
This morning, we were up again at 5:45 to catch the plane to Cusco. I could really use some zzzzzzzzzzzzs.
--Posted by Ann, October 4

Free Language Learning Lessons
Build new vocabulary
Ferret out meaning in existing vocabulary
Intuit new ways to put words together
Build listening skills
Learning Spanish might just save our lives!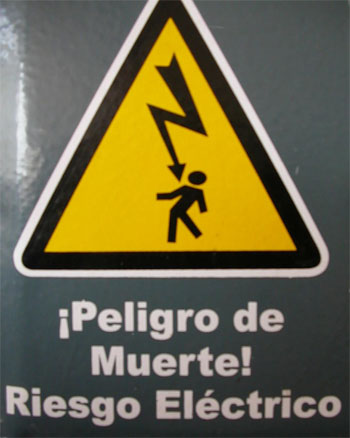 Learn Spanish ... or die?
Ann Marshall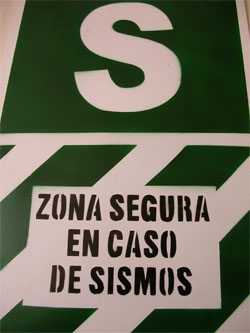 Earthquake shelter
Ann Marshall
October 8 update: A few zzzzs under my belt give enough energy to capture a free language learning lesson. We spotted several signs during our visit that are too good not to share. The one on the left was on an electrical box; the image is pretty vivid, and we quickly ferreted out the words peligro "danger" and muerte "death."
The one on the right seemed pretty easy too. Zona must be "zone" and we remember segura from our high school Spanish classes, "safety" and en caso sounds pretty close to "in case." Sismos is not a word we've ever seen, but it is sounds like the root of the word "seismic" which has to do with earthquakes. Ha! This must be an earthquake shelter.
← Previous: Spanish Translation                                     Next: Fights to Peru →


Return from Free Spanish Lessons to Culture Corner

Return to Your Language Guide home
Stay in Touch with Language Lore ezine
Want to stay in touch? Subscribe to Language Lore, our internet language learning email newsletter. This free ezine facilitates your language learning journey. See our back issues here.

Go to your email now to confirmation your subscription. If you don't see an email within an hour (check your junk mail folder too), please contact us. We respect your privacy and never sell or rent our subscriber lists. If you want to get off this list later, one click unsubscribes you.