Peru Vacation Package Introduces Us to Colca, Condors, and Guides

Note: This Peru vacation package page is part of a series of blogs that we did while learning Spanish language in Peru. Each blog focuses on one or two language learning strategies. They are designed so show you how to implement Walkabout language learning strategies. Use our examples here for any language you want to learn. See the "Related Stories" list of links on this page for additional language learning strategies.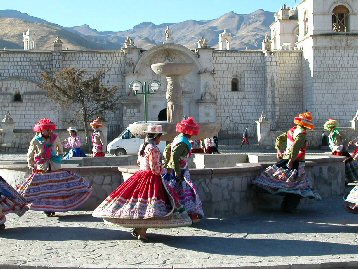 On this leg of our Peru vacation package, our tour guide, "Juan Pablo*," rousts us at 5 a.m. Quick breakfast – Nescafé, white roll with jam, Tang-like "juice." The minibus rolls up to the hostal in Chivay at 5:30. We have to hustle if we're going to see the famed and elusive condors on our Colca Canyon trek.

Half an hour later -- 6 a.m. -- we pull into the plaza in Yanque, a tiny town merely seven kilometers from Chivay. Six a.m., and a troupe of folk-dancers, bright duds flashing, twirls to traditional music (see photo) blaring from a scratchy loudspeaker. Tourist buses, each offering its own Peru vacation package, ring the plaza. Vendors with full stands wait expectantly. A straight line of brightly dressed local folk – some with eagles perched on their shoulders; others standing cheek-to-cheek with their llamas – call out, "Take my photo." Free enterprise is alive and well in Yanque . . .

We spend 45 precious minutes, then get hustled into the minivan. On the route to Colca Canyon, we stop again . . . and again – for a group of vendors here, for a bathroom (and vendor) break in a one-street village, for a view of the Colca River below gradually sinking into the deepening canyon. This is the commercial part of our Peru vacation package.

Along the way, Juan Pablo drowns us in a steady stream of info: flora and fauna, history, geology, tidbits about this and that – first presented in one language, then repeated in the other. Or, as we quickly realize, more or less repeated in the other language. The English and Spanish versions differ. We tune in to his presentation. We get a much fuller story if we listen to both versions. We also get more detailed answers when we ask questions in Spanish. So here we are in an early morning rolling classroom – and a new manifestation of Walkabout (or is it Drive-about?) Language Learning™. The Spanish lessons go on.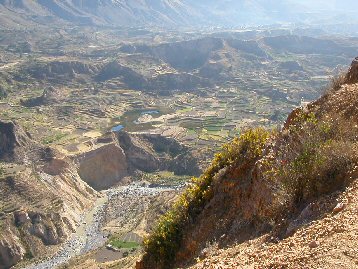 En route, we see the mountain peak Sabancaya, a volcano that erupted most recently for several years in the early 1990s and damaged the terraces on the hillside below it, though it left the terraces on either side of the clefts in the hillside intact. Juan Pablo shows us other terraces carved right to the edge of the cliffs above the Colca River, which were in use before the Inca civilization came into power. We make another stop to stub our toes against yareta a bizarre medicinal plant – good for the stomach – that appears to be a soft green lumpy cushion but is actually hard as rock. Ann's tandem, Juan, writes that the rural folk also treat their firewood with yareta to get their woodstoves going. (See photos of the terraces and yareta.)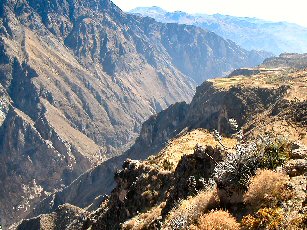 By 8 a.m., we arrive at some predetermined spot and troupe out to a viewing point, then slowly along the Colca Canyon rim; the canyon is deeper (two miles deep) and narrower than the US's Grand Canyon (see photo). Juan Pablo points out a pair of wild chinchillas crouched statue-like among the rocks. He gathers us around a rare plant, lectures on. We ask questions. He answers each one in both languages. Our Spanish lessons continue apace.

Ten a.m.: our first condor soars out from the canyon wall, circles in front of us, then dips out of view. We wait. Another comes, soars right over us. Then another (see photo). Condor watching is breathtaking. They don't flap their wings; they truly soar, catching the warm updraft created as the sun rises over the canyon.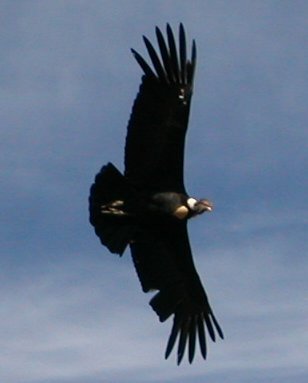 We wait. No more condors appear. Juan Pablo leads us back to the minibus. Like the trip from Chivay to Colca, Juan Pablo has a list of preset stops on the route back, a mental road map of this Peru vacation package of info he needs to feed us. We sit behind him; pepper him with questions about the villages we pass, the sights we see. He's got a bilingual answer for every question. Ann adds plants and villages and historical tidbits to her notebook. I scribble facts and impressions into my journal. No time for the daily learning cycle decide → prepare → practice . . . Today it's just communicate → communicate → communicate!

We're back in Chivay in time for lunch. Ann, Shawn and I skip the prearranged buffet at one of the local restaurants, and find a place off the plaza where we don't have to jostle into the bench seating and eat banging elbows with a gang of tour bus guests.

We sip a pisco sour, order off the menu, enjoy lunch in a shaded courtyard. For the first half hour, we dine alone. The minibus will strike out for Arequipa after their hasty cafeteria lunch. We? We're lucky . . . we're staying an extra night in Chivay. Today was the last of our Peru vacation package. For the next day and a half, we plan to relax, wander on our own, and breathe in the atmosphere of a Peruvian pueblo.
Here's an amazing fact about tour guides we met on our Peru vacation package: it seems they're all famous. Imagine, the Pope himself leading this tour. Twice we've had guides named Mark Anthony (but no Cleopatras) – one quite colorful (see photo). But best of all was the street vendor who pressed a sheaf of paintings at us and said, with a straight face, "I'm Pablo Picasso." We were sorely tempted, but we didn't buy. I mean, who needs another Picasso on the living room wall?
Peru Vacation Package Lessons Learned
Even a bilingual English-Spanish tour can stretch your Spanish skills: listen closely to both versions; as much as possible ask questions in your target language; encourage the tour guide to offer translations.
Write down those local names your guide gives you: towns, buildings, peaks, historic sights, plants, foods. They enhance your story-telling.
--Posted by Terry, November 6
If you want to learn more about how to use experiences like this to improve your skills in a new language, check out the Walkabout Language Learning Action Guide. Click here to download it now.

← Previous: Spare Me the Nescafe              Next: Contaminated Bottled Water →



Return from Peru vacation package to Language Lore

Return to Your Language Guide home

Stay in Touch with Language Lore ezine
Want to stay in touch? Subscribe to Language Lore, our internet language learning email newsletter. This free ezine facilitates your language learning journey. See our back issues here.

Go to your email now to confirmation your subscription. If you don't see an email within an hour (check your junk mail folder too), please contact us. We respect your privacy and never sell or rent our subscriber lists. If you want to get off this list later, one click unsubscribes you.