Adventure Travel Peru
On the trail to Machu Picchu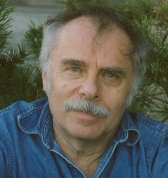 Note: Adventure travel Peru is part of a series of blogs that we did while learning Spanish language in Peru. Each blog focuses on one or two language learning activities. They are designed so show you how to implement Walkabout language learning activities. Use our examples here for any language you want to learn. See the "More Peru Stories" list of links on this page for additional language learning techniques.

It sounds like adventure travel Peru style. In exactly one week now, we're off to Cusco, Peru, then on to Machu Picchu, the famous once-lost Inca city recently voted one of the Wonders of the World.
We'll do some traveling on this blog – first Machu Picchu and the Sacred Valley, later Lake Titicaca and a couple of the floating islands; maybe Arequipa and Cañón del Cotahuasi, the canyon that's twice the depth of America's Grand Canyon; or maybe the Peruvian jungle – places we've wanted to visit since sixth grade geography. (Remember those days? Endless memorization of names we couldn't even pronounce, let alone recall? It's funny how they've stuck in the back of my mind all these years.)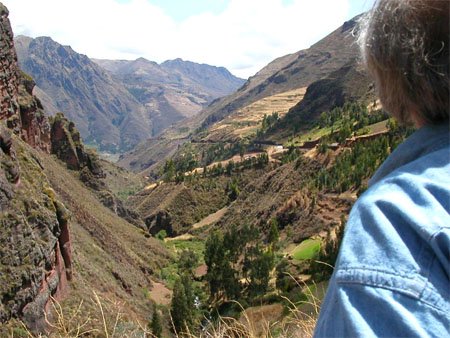 Terry Marshall looks out over the Sacred Valley in Peru
Ann Marshall
We'll ride buses on narrow roads through the high Andes, hike, canoe, live with Peruvian families, eat foods we've never heard of, sip late-night coffee on the plaza, make new friends, get lost wandering through the streets, maybe even learn a bit of Inca folk-dancing along with our Salsa lessons. It won't all be adventure travel Peru style. Mainly, this blog will be about learning a language. Specifically, about learning Spanish. We're testing ourselves and our thoughts on how to learn a foreign language, and we invite you to learn along with us.
For a month, we'll be enrolled in an intensive Spanish program – four hours a day combining formal small group classes and private tutoring, with an additional hour a day one-on-one with a Peruvian tandem who wants to learn English. We'll teach him (or her) and in turn she (or he) will teach us. We'll see how best to make that work. We'll be staying with a Peruvian family, so we'll develop and hone our thoughts on how to get the most language learning from a homestay. We'll purposefully wander the streets of Cusco, introduce ourselves to strangers, and practice our newly learned Spanish skills.
We'll share with you what we're learning. We'll pass along the high points – and, no doubt, some frustrations. We'll try new things. We'll see how best to turn our experiences with unwritten languages into learning one so common as Spanish, and we'll pass whatever works along in the blog. Click here to learn Spanish in Latin America.
If you'd like to try the same techniques we're using, we recommend that you download the Walkabout Language Learning Action Guide. It will show you how to create your own tailor-made language learning program.
So stay tuned. We'll be back. Or is it, ¿Nosotros regresaremos? ¿Quién sabe? We'll know in a couple of weeks.
--Posted by Terry, September 26
Return from Adventure Travel Peru to Language Lore
Return to Your Language Guide home
Stay in Touch with Language Lore ezine
Want to stay in touch? Subscribe to Language Lore, our internet language learning email newsletter. This free ezine facilitates your language learning journey. See our back issues here.

Go to your email now to confirmation your subscription. If you don't see an email within an hour (check your junk mail folder too), please contact us. We respect your privacy and never sell or rent our subscriber lists. If you want to get off this list later, one click unsubscribes you.