Ecotourism Travel in Lake Titicaca: Amantani overnight

Note: This ecotourism travel page is part of a series of blogs that we did while learning Spanish language in Peru. Each blog focuses on one or two language learning strategies. They are designed so show you how to implement Walkabout language learning strategies. Use our examples here for any language you want to learn. See the "More Peru Stories" list of links on this page for additional language learning strategies. Also see our Learn Spanish section.
This is ecotourism travel at its most engaging: we're sipping quinoa-laced potato soup by candlelight at Juan Quispe's. We're huddled around a tiny table in his dirt-floored kitchen on Amantani Island in Titicaca Lake, four hours by launch from the port of Puno.
Juan eats with us (see photo). His wife and son hunker quietly in shadows cast by a low-level fire in the cooking fireplace at the other end of the kitchen. You wouldn't know they were there if you didn't search them out. They've already eaten, Juan assures us. Besides, the table barely accommodates the four of us. It fills half the kitchen.

What is Ecotourism Travel?
Ecotourism is sustainable journeying. It is about preserving the natural environment and improving the lives of local people. Ecotourism travel provides financial benefits for local communities and empowerment for local people. It seeks to create positive cultural experiences for travelers as well as for hosts.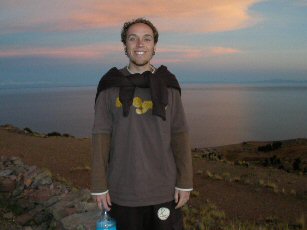 Shawn enjoys the sunset over Lake Titicaca.
Ann Marshall
Our ecotourism travel is a new – and sobering – experience for Shawn. For us, it's reminiscent of many a Peace Corps excursion in the Solomons: nights in villages with no electricity, no running water, no refrigeration, no indoor toilets. Ever so briefly, we are living the definition of ecotourism travel. But here it's cold; we're wearing sweaters, jackets, and alpaca caps as we eat. It may be spring on some Peruvian calendars, but no one delivered that news to the weather gods on Amantani.
For this taste of ecotourism travel we've paid to spend the night on remote Amantani, sleeping in a local family's house, eating what they eat. Our launch of 20 tourists arrived from Puno at 1 p.m. Local families – women dressed in bright skirts and men in black suits – met us near the wharf, divvied us up, and took us to their homes for lunch. Our room is a second-story cinder block addition above Juan's living quarters across a small courtyard from the kitchen. It's no frills. Four single beds (each with four weighty wool blankets) nearly fill the unadorned room. There's a sewing machine in one corner, a couple of boxes in another. A bathroom (toilet and showerhead) is out the door, down the stairs, across the dirt courtyard, next to the kitchen. But it doesn't have water. We flush by dumping a bucket of water into the stool.

Amantani and Lake Titicaca
After nap, we are off for an ecotourism travel hike. We walked 30 minutes up to the soccer field, joined the other tourists, then trudged a kilometer and a half up the rocky, terraced hillside to the island's summit. We went slowly: Lake Titicaca is 12,500 feet above sea level; the climb added another 500 feet. Sunset over Lake Titicaca was worth the climb. The lake is 120 miles long, 50 miles wide, but from the summit's 360-degree view, it seemed endless. We had to pick our way down the uneven stone trail in pitch-black darkness. The riot of stars in the moonless sky took our breath away, but it did nothing for visibility.
Amantani is stark, rock-strewn, and now, before the spring rains, silty brown. It's a hard-scrabble life here. Juan tells us he used to fish for a living, but fish these days are scarce. Folks here do make handicrafts, but they can't compete with the artisans in Cusco, Puno or Arequipa.
Ecotourism travel brings badly needed income, and the islanders take turns hosting overnight tourists. Participating families identify themselves by painting their roofs red (see photo of houses scattered among the ubiquitous terraces). In this off-season, that means maybe two nights a week for each participating family. Juan gets 15 soles for the three meals and room he provides each visitor (US$5). Our tour – which includes the round-trip launch from Puno, an hour stop at the floating island of Uros, and tomorrow's three-hour stop at nearby Taquile Island – cost us $30 each. I noticed that one web-savvy tour agency offers the same tour for $50. Another advertises a one-day, no overnight visit for $109.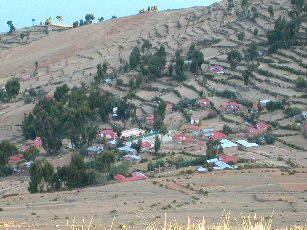 Houses in Amantani at Lake Titicaca.
Ann Marshall
No Amenities
Amantani doesn't have a café or bar. No hotel. No industry. No mall. No world-class sights. No water-sports or lake fishing adventures. Not even a road. Amantani is 800 families (4,000 people) in eight village-like clusters scattered over a rough landscape that makes you marvel at residents' tenacity – over the centuries, they and their Quechua-speaking ancestors carved every foot of this island into terraces to make subsistence-level farming possible. This year, drought threatens recently planted crops.
Over dinner, Juan offers to guide us back up the hillside to the nightly dance party, an event conjured up to entertain visitors in the evenings. It will go on until 10 or 11, he says. As we talk, we discover that the dance isn't a folkloric presentation. It's more a modern-day dance, designed to give tourists something to do. We're tired. "Do you want to go to the dance?" I ask Juan.
He hesitates. "We offer it for our visitors. I'm a proper host."
We really are tired. And the thought of hiking uphill through the shadowy terraces doesn't appeal to any of us, not even night-owl Shawn. We gracefully decline. Juan smiles. He's relieved. We chat on. The dance has the same songs every night, same local faces, same jokes by the emcee. When there are no tourists, Juan goes to bed at 7:30 p.m. He normally gets up at 3:30 a.m.; the prime work hours are in the early morning.
We sip another cup of coca tea, chat about ecotourism travel and the economy, about how difficult it is to entertain guests who speak not a word of Spanish. We muse to ourselves about how much richer those visits could be if those tourists employed our language learning strategies. We exchange addresses and Juan pulls out a formal-looking stamp, like a notary seal, and imprints his calling card on a tiny piece of paper torn carefully from a school notebook. It says, "Juan Pacompia Quispe, presidente comunidad campesina (president of the rural community). He's a local elected official. His "card" includes an e-mail address that he checks whenever it gets to Puno.

At night's end – 8 p.m. – Juan promises us that the next time we come, he'll have a table that seats six, and a kitchen big enough to accommodate it. He also says we can book our stay directly through him. Just send an e-mail.
Outside, a million stars pulse in the night sky. The island is silent. No radios. No TVs. No screeching ambulances – no traffic at all; there are no vehicles on this island.
Tonight, no lessons learned. We're happily reveling in the isolation.
Post script from Ann: Before we retire for the night, Shawn and I exchange suspicious looks with each spider on the walls. They all appear to be the harmless garden variety sort. Perhaps they think the same of us. In any case, they don't bother us, and we don't bother them.


In the night I regret all the tea I drank at dinner. I hold out as long as I can, then finally venture out into the cold night air, down the stairs, across the courtyard, to the bathroom. My reward: the spectacular star-spangled sky – fireworks without the brimstone. Later I reap an even lovelier reward when I'm forced to take another trip across the courtyard: by now the moon has risen over the peaks, creating a breath-taking silvery highway across the lake to Bolivia.

Unique language learning experiences like this ecotourism travel one allow you to get a glimpse of the local culture in a way that many tourists never see. You can also understand the culture of your hosts better if you learn their language. Download the Walkabout Language Learning Action Guide to learn how to create your own language program designed to meet your specific needs.
--Posted by Terry and Ann, November 2
← Previous: Choquequirao               Next: Spare Me the Nescafé →


Return from Ecotourism Travel to Language Lore

Return to Your Language Guide home
Stay in Touch with Language Lore ezine
Want to stay in touch? Subscribe to Language Lore, our internet language learning email newsletter. This free ezine facilitates your language learning journey. See our back issues here.

Go to your email now to confirmation your subscription. If you don't see an email within an hour (check your junk mail folder too), please contact us. We respect your privacy and never sell or rent our subscriber lists. If you want to get off this list later, one click unsubscribes you.