Contaminated Bottled Water = Urgent Errand!

Note: This contaminated bottled water page is part of a series of blogs that we did while learning Spanish language in Peru. Each blog focuses on one or two techniques that we used to learn a foreign language. These articles are designed to show you how to implement Walkabout language learning strategies. Use our examples here for to further your second language learning. See the "Related Stories" list of links on this page for additional ideas about how to learn a foreign language.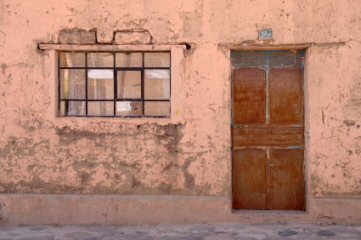 Example of a typical shop in Peru – not the shop mentioned in this story.
IStockphoto
Sometimes mundane events drive your desire to learn a foreign language. In fact, a swig of contaminated bottled water can create urgent motivation…
We loved Chivay. Nestled among towering mountains, it had a picturesque, small-village quality that makes travel so rewarding. We rejoiced at the welcoming stone arch signaling the end of the long, dusty road, followed by renewal at the hot springs after five hours on the bus. Friendly people and a spotless, tiny, café where Terry found some of the best coffee on our whole trip were bonuses. Read the story about how he used his search for "coffee time" to enhance his second language learning. And we were thrilled we were able to see rare condors fly over Colca Canyon.
Contaminated Bottled Water
But the charming pueblo neutralized the instincts tugging at my sleeve when I bought two dusty bottles of drinking water in a hole-in-the-wall shop off the plaza later the same day. (Don't buy, Ann, don't buy, my smarter self warned.) I paid no attention, not right away. When we got back to the hostel, however, the scratched lid didn't break a seal when I opened it. I feared we had bought contaminated bottled water. (Note: the window and door pictured on this page are not the shop at which we bought the contaminated bottled water. The photo shows a shop typical of those you see all over Peru.)
Immediately, I went looking for Shawn, who had the other bottle to see if his bottle was sealed. He had already started drinking (only about a cup), but yes, he thought it had been. To be safe, though, he drank no more.
I debated about taking my bottle back, not for the US$1.00 refund, but to advise the vendor that she should beware of unscrupulous people selling her contaminated bottled water. Or, if she was the responsible one, to let her know I was on to her. Terry and Shawn rolled their eyes.
I ginned up a short dialogue (monologue, really, as I didn't expect she would say much)--more practice to help me learn a foreign language. I couched it in my most diplomatic words. We returned to the shop within an hour after the purchase, and Terry and Shawn lingered in the shadow of the doorway. As soon as I began my contaminated bottled water spiel about how the lid wasn't sealed, the vendor launched into a high-pitched diatribe in Quechua, not Spanish. At the same time, she started digging coins out of her pocket.

She slammed three soles on the counter and said, in Spanish, "Well, the other bottle was sealed. Only this one fell on the floor!" Flummoxed by her angry response, I didn't finish my spiel. Clearly, she understood; no need to beat it to death. I acknowledged her confession by picking up the money and leaving.
"Guilty as charged," commented Shawn as we left. By evening, we realized just how guilty: he came down with a raging case of turista that got him up nearly every hour for most of the night. Contaminated bottled water seemed the mostly like cause.

Sick with Tourista
The next morning, worried about how he could survive the five-hour bus trip back to Arequipa that afternoon, I set a goal to find something to stop him up – literally. First, I expanded my earlier vendor dialogue so I could explain to a pharmacist what had happened, what Shawn's symptoms were, and what we needed. Finding a pharmacist was easy: he worked in a tiny office behind a Dutch door on the plaza. I told him my story--more practice to help my second language learning. He got it immediately and sold me some jarabe for diarrhea, assuring me the medicinal syrup would work much faster than the Immodium pills I had given Shawn earlier.
From there, I went to our favorite coffee shop to get sandwiches for the afternoon's bus ride. In the spirit of Walkabout Language LearningTM – while the proprietor, our new friend Amanda, made sandwiches behind the counter – I shared a newly expanded contaminated-bottled-water plus angry-vendor-and-pharmacist story, and Amanda insisted on fixing Shawn a chicken broth. (She had taken a motherly liking to him on previous visits.) Yes, joy came from my efforts to learn a foreign language. It is about much more than memorizing words!
At the hostel, Terry adapted the story to explain to the hostel proprietor our concern about the bus trip back to Arequipa. The proprietor assured us the guide would take care of Shawn ("This happens all the time!"). Later, we refined the story to the guide and the driver – more Walkabout Language Learning TM. By now we were getting quite good at telling our story – practice is essential in second language learning! They promised to stop immediately if the need arose.
Luckily, the guide gave us the entire back row of the van, where Shawn fell asleep at once. The jarabe did its work. We didn't have to stop at all.
And although I would rather not have this kind of help to learn a foreign language, I did feel a certain amount of satisfaction when I realized I really have begun to develop facility needed to deal with some urgent needs.
You can also hone the language skills you need. The Walkabout Language Learning Action Guide shows you step by step how to use your daily interactions to improve your language skills. Click here to download it today.

Tips to Learn a Foreign Language
Create a dialog before you run a vital errand; use Walkabout to guide your second language language learning strategies: set goals → prepare → practice.
Once your dialogue works, adapt and reuse for other situations to learn a foreign language.
Insert dialogue into conversations: use as grist for story-telling.

–Posted by Ann, November 7
← Previous: Colca, Condors, and Guides             Next: Pictures of Peru →


Return from Contaminated Bottled Water to Language Lore

Return to Your Language Guide home
Stay in Touch with Language Lore ezine
Want to stay in touch? Subscribe to Language Lore, our internet language learning email newsletter. This free ezine facilitates your language learning journey. See our back issues here.

Go to your email now to confirmation your subscription. If you don't see an email within an hour (check your junk mail folder too), please contact us. We respect your privacy and never sell or rent our subscriber lists. If you want to get off this list later, one click unsubscribes you.