Pictures of Peru: An Extraordinary Place
Note: This pictures of Peru page is the last in a series of blogs that we did while learning foreign language in Peru. Each blog focuses on one or two language learning strategies. They are designed to show you how to implement Walkabout language learning. Use our examples here to supplement your own learning foreign language program for any language you want to learn. See the "Related Stories" list of links on this page for additional ideas about learning foreign language.
If you are interested in pictures of Peru, you have come to the right place . . .
A grand bonus of immersing yourself in another country for Walkabout Language Learning is seeing new places, having new experiences, and meeting new people. This page is devoted to pictures of Peru, taken in the fall of 2007. We were learning foreign language there using our Walkabout method. You can follow our step-by-step guide to create your own custom made language program.
The pictures are grouped roughly into those taken around the Cusco area, the Sacred Valley, mystical Moray, magical Machu Picchu, San Pedro and Lake Titicaca, and Colca Canyon, including stops in Arequipa and Chivay. Most of these photos are additional to those we shared on our blog about our Peruvian experience and our adventures learning foreign language. We have included links to those blog entries so you can see the additional photos and read specifics about each place. Meanwhile, a few words about each locale . . .
Cusco area
Capital of Inca Civilization
Cusco, the ancient capital of the Inca civilization, is located high in the Andes (11,000 feet, or 3,400 meters). The gateway to the lost city of Machu Picchu, Cusco is bursting with its own history, both from the ancient Inca and pre-Inca civilizations and the later Spanish colonial period. Our pictures of Peru show the Catholic cathedral, built on the foundation of the Inca temple.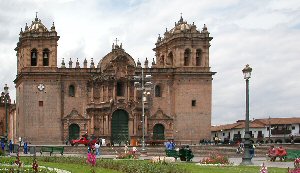 El templo La Compania este templo en la colonia pertenecia ala orden jesuita los jesuitas la abitaron en el año de 1572.
---

While we were learning foreign language, we captured whimsical interactions of people and traffic – numerous parades, processions, and strikers marching in the busy streets. Miraculously, the madcap polka of taxis, cars, bikes, pedestrians, and trucks somehow eased to allow these interlopers space, making for a colorful and sometimes dizzying montage of tradition and technology, humans and heartfelt issues, all against a backdrop of enormous murals that tell the stories of history, extol sports, and reach out for modern day cartoon characters, including Fred Flintstone and friends.


Celebrations
This musician and his troupe met us at the Cusco airport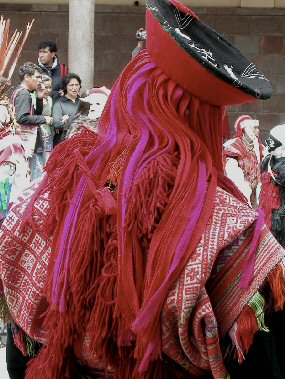 Traditional Inca figure participating in Tourist Day parade on Plaza de Armas, Cusco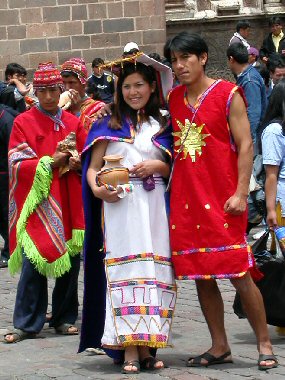 Traditional Inca figures who participated in Tourist Day parade on Plaza de Armas, Cusco
Parade figure representing old folks in the Cusco region (representa a los ancianos de la region del cusco machumachu - viejoviejo)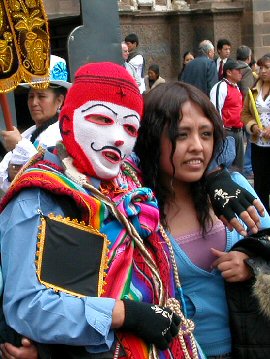 This Cusco parade participant took time out to hug a bystander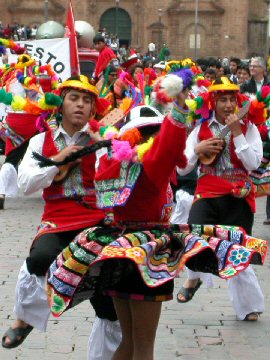 Traditional Inca figures participating in Tourist Day parade on Plaza de Armas, Cusco
When Spaniards didn't find gold, they turned to another kind of "gold" -- liquor tapped from jungle plants. This traditional figure represents a mule driver for the cargo brought back from the jungle.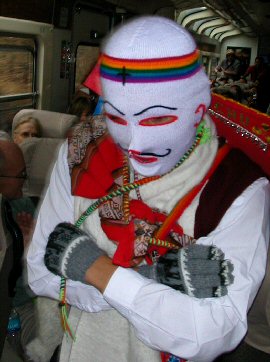 Peruvian dancer (danza qolla) on train to Machu Picchu
---
Murals
Mural on Avenida Sol, Cusco.
This mural on Avenida Sol depicts the history of Cusco from Inca times through Spanish colonization
---
Oropesa
These pictures of Peru also include an excursion to the nearby sleepy village of Oropesa, home of popular discus-size bread loaves, where we witnessed – and sampled – the bread-making process and admired the temple there, the reconstruction of which our host "father" supervised.

Making bread in a woodburning oven, Oropresa, Peru
Our host "father" standing in front of a temple, Orpresa, Peru.
---
Read About Our Experiences and See More Pictures of Peru
Daily Life

For other Peru photographs, plus stories about our efforts in learning foreign language, and snippets from day-to-day life in Cusco, click on:
Illnesses

We had several brushes with illness during our stay. Click on:
Language Learning Experiences

For insight into our experiences learning foreign language, check out:
Using Practical Spanish

Part of our practical application of Spanish came through tandem language learning, a special relationship with Peruvian students trying to learn English. Check them out at:

And finally, take a look at how we applied Walkabout Language Learning™ methods to one of many daily challenges we faced at UFC Ultimate Fighting Championship: Staying Connected.
--Thanks for reading, Terry, Ann, and Shawn

← Previous: Contaminated Bottled Water                       Return to Language Lore →
Next: Visit Cuba with Us

Did you like reading our language learning journey in Peru? In 2012, we (Terry and Ann) visited Cuba on a humanitarian mission. We took medical supplies to a number of Cuban synagogues. In the process, we experienced a rich cultural journey. Read about our adventures in Cuba.


Return from Pictures of Peru to Language Lore

Return to Your Language Guide home
Stay in Touch with Language Lore ezine
Want to stay in touch? Subscribe to Language Lore, our internet language learning email newsletter. This free ezine facilitates your language learning journey. See our back issues here.

Go to your email now to confirmation your subscription. If you don't see an email within an hour (check your junk mail folder too), please contact us. We respect your privacy and never sell or rent our subscriber lists. If you want to get off this list later, one click unsubscribes you.