Images of Peru Housing
Note: This Peru housing page is part of a series of blogs that we did while learning Spanish language in Peru. Each blog focuses on one or two techniques that we used in our foreign language study during our international study abroad program. They are designed so show you how to implement Walkabout language learning strategies. Use our examples here for to enhance your foreign language study. See the "More Peru Stories" list of links on this page for additional ideas to use during your own international study abroad program. Also see our Learn Spanish section.
Our Lodging in Cusco: Home Away from Home
Our Peru housing is one of many bright spots in our trip. Maximo Nivel provided for great accommodation, matching us with a Cusco Peru host family that keeps students regularly, so they are knowledgeable about working with students involved in a foreign language program, both in terms of little necessities, and in helping us with our Spanish.

We have rooms in a separate building on the family compound. Terry and I are on the ground floor on the other side of a swimming pool, which I think has water in the summer, in a small garden (see photo).
Shawn is directly above us, and both rooms have private bathrooms and private entrances. We are a few steps from the main house, where we go for the three meals a day that are included in the cost of our international study abroad program, yet we are sufficiently separate that we are not stumbling over one another.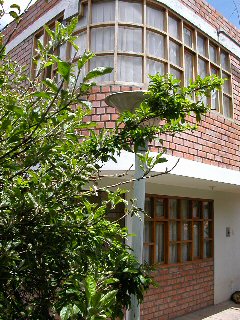 Living quarters with our host family, Cusco, Peru.
Ann Marshall
Luckily, it's spring here. As apparently is common in Peru housing, we don't have central heating in our quarters. But there's more than one way to keep warm, folks: put more clothes on! Likewise, hot water for our showers comes from individual heaters that one turns on just before stepping into the shower, not from a central water heater. Coils in these individual heaters warm the water as it passes through the shower head. They work quite well when the neighbors are not using their hairdryer.

Our Cusco Host Family: Making Room for Three More
The family includes Zonia, Carlos, her engineer husband, and Rafael, their handsome 16-year-old son. We haven't met the 19-year-old son who is going to the university in Lima. Two other members of the household are housekeepers Señora Gabi (whom we rarely see because she works in the mornings when we are at school) and Alicia, a 17-year-old who rarely speaks, but grins frequently at the jokes and pays close attention to stories shared around the table about pollution and family history. Alicia also does our laundry. Finally, there's Rocky (pronounced Ro-key), the family's German Shepherd, who patrols the grounds and keeps one eye on the outside world by poking his nose under the blue gate.
Carlos
Carlos manages certain aspects of archeological restoration for various historical sites, including the other Machu-Picchu, known as Choquequirao. Two days' trek from Cusco, Choquequirao is "a Machu Picchu without the crowds, without the vendors, without the long lines of buses snaking through the Peruvian countryside," according to The New York Times. (See the three-page article on it in the Times' June 3, 2007 Travel section.) Because of his work, we see Carlos less often. Nevertheless, he saved us from our own ignorance when we couldn't get our camera battery recharger to work. (Reading the instructions might have been a good idea, too.)

Rafael
Rafael is in the final throes of secondary school, which ends next month. He is preparing for the entry exam to the university in Lima and often studies until late in the evening at the academy. Speaking faster than a machine gun, he presents special challenges that stretch and usually overwhelm our foreign language study. He is also quite helpful in correcting our more egregious errors in pronunciation and grammar. He seems to speak English very well, though we don't hear it very often. He is a great asset in our international study abroad program.

Zonia
Zonia, who is a professional cook, prepares food to meet our special tastes, almost to a flaw. We started out with soup as the first plate at every lunch and dinner, something more common in Peru than for us at home. As she realized that we don't eat as much soup, she quit serving it for every meal . . . it was kind of embarrassing. What about the rest of the family?
She is also very helpful with day-to-day problems, like where to buy things, and helping us (on our second try at Radio Shack) return a camera battery charger Shawn had bought that didn't work.
But the most special aspect of our Peru housing is the dinner table talk. It is a wonderful way to enhance our foreign language study. It is far more than a continuing opportunity to practice Spanish. We have had great conversations about agricultural reform, the economy, special problems of DDT and other pollution (yes, even in Cusco), and politics. Meals are a time for discussions about our countries and background, and especially ribbing and jokes. They are quite the jovial affair as well as an excellent way to expand our foreign learn study.

Peru Housing: What's Behind All those Other Doors?
Our international study abroad program is more than our special home stay, of course, and we are constantly amazed at the variety of Peru housing sandwiched closely together, marching straight up the hillsides in all directions (see photo).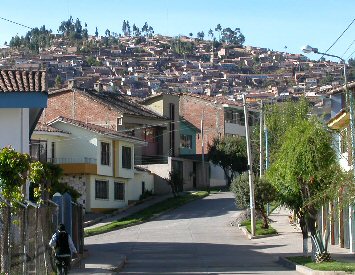 Houses march up the hillside, Cusco, Peru.
Ann Marshall
The prime views do not necessarily belong to the rich. Some of the poorest neighborhoods perch on the hillsides overlooking Cusco, while nicer neighborhoods cluster on the valley floor. But as is common in many developing nations, extremely modest abodes are squeezed in between middle class housing that often belie the comfort behind sometimes understated entrances, such as the blue door in the gate to our family's home (see photo above).
This pattern is interrupted by the occasional ostentatiously opulent home.
One thing about Peru housing noticeable by absence is the rarity of garages. Public transportation is very cheap (about 67 cents to go anywhere in Cusco by taxi, and buses are cheaper, of course). Many families do not have cars. No car, no garage. Our international study abroad program makes me think about how much real estate we waste on automobiles in our country.
This means also that many thoroughfares to reach people's homes are down narrow passages that do not accommodate automobiles. If you ignore barking dogs, these neighborhoods make for reasonably quiet and safe places for children to play. In the middle of one foot-traffic-only area, we found a small park with murals of Spongebob Squarepants, Bugs Bunny, and Bambi on the walls (see photo).
Many families live in apartments, many of which seem unimposing from the outside. In Cusco, apartments are sprinkled throughout the residential and business areas. An American who now tends bar on the Plaza de las Armas told us he pays US$50 a month for his apartment.

Peru Housing for other Students
One other note about Peru housing for students, at least in Cusco . . . a number of the younger students at Maximo Nivel's international study abroad program live in a "family house." Many of them work on volunteer projects with people in need. For example, one student, a scaler in the Canadian lumber industry, attends school for two hours a day, and volunteers for a developing orphanage two hours a day to round out his foreign language study.
She travels 45 minutes by bus to get to the orphanage's home community, then walks another 25 minutes to get to the orphanage, which is in the throes of drilling a well for the orphanage. These volunteer projects seem to be a fairly common element of the international study abroad programs available in Cusco.
The family house provides an opportunity for students to enhance their foreign language study in Cusco. They bond, compare notes, and live with other foreigners with a shared interest. My casual observation is that they could be an incubator for forays to bars and discotheques that run until the wee hours of the morning. For students serious about foreign language study, the interaction with local folks on the volunteer projects could be very helpful, though that may be counterbalanced by the almost constant use of English during off-hours.
Would you like to learn how to take advantage of language learning opportunities that surround you on your international experience? Download the Walkabout Language Learning Action Guide to learn step by step how to use your environment to create a custom made language program.
--Posted by Ann, October 29
← Previous: UFC and other jousts                       Next: Choqequirau →


Return from Peru Housing to Language Lore

Return to Your Language Guide home
Stay in Touch with Language Lore ezine
Want to stay in touch? Subscribe to Language Lore, our internet language learning email newsletter. This free ezine facilitates your language learning journey. See our back issues here.

Go to your email now to confirmation your subscription. If you don't see an email within an hour (check your junk mail folder too), please contact us. We respect your privacy and never sell or rent our subscriber lists. If you want to get off this list later, one click unsubscribes you.