Little Known Facts about Peru History:
Choquequirao? What's that?

Note: This Peru history page is part of a series of blogs that we did while learning Spanish language in Peru. Each blog focuses on one or two language learning strategies. They are designed so show you how to implement Walkabout language learning strategies. Use our examples here for any language you want to learn. See the "More Peru Stories" list of links on this page for additional language learning strategies. Also see our Learn Spanish section.

Choquequirao
Add this to your facts about Peru history: Choquequirao.
What's that? I didn't know about Choquequirao (spelled Choqequirau in Spanish, and pronounced Cho-kee-ke-rau) until Carlos, our Peruvian host "father," grew absolutely ebullient in singing its praises (in Spanish) one night at dinner. Usually, Carlos says little – he doesn't speak much English, and too often, his bursts of Spanish either leave us glassy eyed, or prompt a stumbling response that tells him we've missed the point. He lets his wife, Zonia, carry the conversation.

The Trek of a Lifetime
That night, he dug out a two-page travel article from the June 3, 2007, New York Times touting Choquequirao as the "other Machu Picchu." Another spectacular lost Inca city, and piece of Peru's history, Choquequirao hasn't become a major tourist destination because it's too isolated. It's a 100-mile drive (no train or regular bus route) from Cusco over less-than-perfect roads to get to the starting point at the tiny town of Cachora. Then, it's a two-day hike or mule- or horseback-ride over two mountains. Last year, 6,800 visitors made it to Choquequirao. Machu Picchu gets more than 650,000 visitors a year.
Carlos tempted us to return to Cusco. "Next time you come, I'll organize an expedition to Choquequirao. You and your friends," he said. No joke. He repeated the offer several times.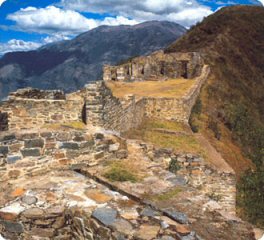 Choquequirao
We lingered another hour after dinner, peppering him with questions. "What's it like? Describe it. How do we get there? Where do we stay? (What, no hostels there? No restaurants?) How much will it cost?" Each enthusiastic response generated another two questions. Each question generated a flurry of facts about Peru history. We had only to listen, nod, and formulate follow-up questions. It was one of our most exciting conversations, both because of what we learned of Peru history, and because of the focused effort on learning Spanish language.
We didn't understand the subtleties, mind you, the details about Choquequirao, but clearly we understood that it is spectacular, and that a trek there, especially with Carlos as guide, would be a trip of a lifetime. We kept in mind one of our other language learning strategies. We didn't try to understand every single word he said, we just focused on understanding the general idea.
What we did learn, though, is that even with a limited vocabulary, mastering the art of flipping out snappy questions is a great way to keep the conversation flowing – and shade in our grasp of the topic at hand, bit-by-bit. Add this technique to your language learning strategies; it is particularly helpful if you can start with questions requiring short, factual answers that can lead to other questions.
Now, all we have to do is our follow-up research on Choquequirao.
October 31 update: We did some research, found and bought a stunning bilingual book, Choqequirau, Historical and Ecological Sanctuary by Luis Lumbreras, Renzo Uccelli, and Walter Wust (published by Servicios Editoriales del Peru, goliar(at)tp(dot) com(dot)pe). Choquequirao is indeed the other Machu Picchu, an important part of Peru history. When we return to continue learning Spanish language, we'll be ready for a spectacular trip. You can see photos of the place (which is where we got the ones in this blog).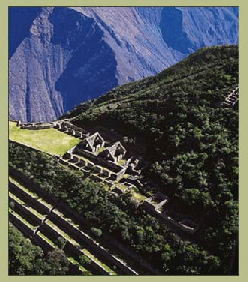 Choquequirao
We also talked to a Peruvian friend who made the trek to Choqequirau. She gave us more facts about Peru -- and second thoughts about Choqequirau. Are we up to bathing in icy streams in winter? (Or going unwashed for five days?) Could we hike (or ride a mule) 80 kilometers round trip up craggy peaks that leave us (and the mules) with rubbery knees – and nightmares about plunging to our deaths off a narrow mountain trail etched into the side of sheer cliffs? Maybe not. Maybe maybe. My heart shouts yes! My mind reminds me how my knees felt after I climbed Wayna Picchu, just an hour trek. We'll see . . .
If you'd like to learn how to use daily conversations to enhance your language study, download the Walkabout Language Learning Action Guide. It walks you step by step through the process.

Language Learning Strategies
Master the art of asking short questions: they keep a conversation – and language learning practice – flowing.
Then you're learning a foreign language, don't try to understand every word. Strive for a general understanding.
Temper your initial enthusiasm with a bit of practicality.

--Posted by Ann October 31
← Previous: Peru Housing                       Next: Ecotourism Travel →


Return from Peru History to Language Lore

Return to Your Language Guide home
Stay in Touch with Language Lore ezine
Want to stay in touch? Subscribe to Language Lore, our internet language learning email newsletter. This free ezine facilitates your language learning journey. See our back issues here.

Go to your email now to confirmation your subscription. If you don't see an email within an hour (check your junk mail folder too), please contact us. We respect your privacy and never sell or rent our subscriber lists. If you want to get off this list later, one click unsubscribes you.