Bilingual Celebrities
What do Monica Bellucci, Arnold Schwarzenegger, Kobe Bryant, Jennifer Connelly, and Will Smith have in common? They are all bilingual celebrities. It may not seem like a big deal to hear Penelope Cruz, Roger Federer, Antonio Banderas, or Claudia Schiffer speaking English, but it is a second or third language for each of them. Their native tongues are Spanish, Swiss German, Spanish, and German. They applied the main principle of Walkabout Language Learning--learn what you need to know in order to succeed right now.
Many celebrities around the world have found that learning English has helped their career, and numerous English-speaking celebs have chosen to learn another language. For some, it has been because of family origin. Actress Natalie Portman born in Jerusalem to an American mother and an Israeli father was raised in the United States. She speaks English and Hebrew and also has skills in French, German, Japanese and Spanish. She has professed an interest in language learning since she was a child.
Others have chosen to become bilingual celebrities because of marriage. American actor Johnny Depp's decade long relationship with French actress and singer Vanessa Paradis has driven his desire to learn French. The couple and their two children split their time between their homes in France and the United States.
American actress Sandra Bullock learned German while tagging along with her mother, a German opera singer, on tours through Europe. Her grandfather was a German rocket scientist from Nuremburg. She also stayed with her German speaking aunt and grandmother in Salzburg and Nuremberg.
Mexican actress Salma Hayek had limited ability in English when she moved to Los Angeles in 1991 and had to learn English quickly to pursue her acting career. Married to French billionaire François-Henri Pinault, multiculturalism is the norm in their home. Colombian singer, songwriter Shakira is interested in world history and frequently studies the history, culture and languages of the countries she visits.
Ready to start your own bilingual journey? This book is packed with ideas to speed your language learning efforts.
Here is the top ten* list of bilingual celebrities:
| | | | |
| --- | --- | --- | --- |
| Rank | Celebrity | Native language | Additional languages |
| 1 | Emma Watson | English | some French |
| 2 | Natalie Portman | English | Hebrew, some French, German, Japanese and Arabic |
| 3 | Shakira | Spanish | Spanish, Portuguese, French, Italian, and Arabic |
| 4 | Salma Hayek | Spanish | Arabic, Spanish, Portuguese |
| 5 | Heidi Klum | German | English |
| 6 | Kelly Clarkson | English | Greek |
| 7 | Sandra Bullock | English | German |
| 8 | Johnny Depp | English | French |
| 9 | Charlize Theron | Afrikaans | English |
| 10 | Penélope Cruz | Spanish | Italian, French and English |
* Ten most popular celebs based on internet keyword search of known bilingual celebrities, May 2011.
Return from Bilingual Celebrities to Your Language Guide home
Brad Pitt on Language Learning
Brad Pitt reflects on teaching his brood of six children -- three of them adopted, three biological. "We tie their homeschooling to whatever location we're in -- the culture, the history. Everybody was born outside the U.S., so we also do family trips to their respective countries." The kids are taught the language of their respective homelands. "My Cambodian isn't so sharp," Pitt says.
--USA Weekend, May 27-29, 2011
---
Top Three Bilingual Celebrities

Emma Watson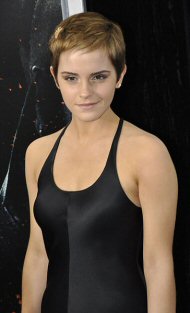 Joella Marano
English actress and model, Emma Watson plays booksmart Hermionie Granger in the Harry Potter movies. She's smart off-screen as well; she speaks French.
---
Natalie Portman
Josh Jensen
Natalie Portman's major film success started with her role as Queen Padme Amidala in the Star Wars prequel trilogy, and she's a queen in smarts too. She holds a BA from Harvard University and has co-authored two articles published in scientific journals. In addition to speaking English and Hebrew, she has studied French, Japanese, German, and Arabic.
---
Shakira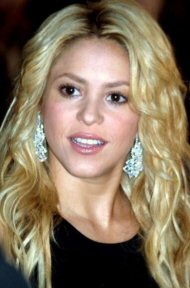 Georges Biard
Colombian singer Shakira has a strong interest in history and often studies the history and language of places that she visits. She even attended a History of Western Civilization class at UCLA, using her middle and last names, Isabel Mebarak, to avoid being recognized as a celebrity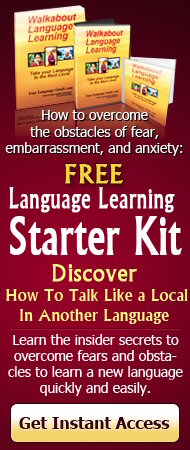 ---