Meet Leslie Woodford:
Offering a Child Language Learner's Perspective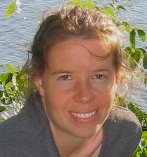 Hi, I'm Leslie Woodford. I offer a little different perspective - that of the child language learner. When I was seven, my dad and mom and I packed our house and moved from the calm security of a small Colorado town to the jungled and mountainous Solomon Islands, where my parents became U.S. Peace Corps Country Directors. After a one-month training program in Washington, DC, we boarded a PanAm 747 for my first international flight.
One eighteen-hour flight, four plane changes, and a blur of airport waiting rooms later, we stepped onto the tarmac at Henderson Field airport outside of Honiara, Guadalcanal.
Bitten by the Language Bug
It was late afternoon as we rode to town in the Gestapo green Peace Corps van. The interim country director talked of life in the Solomons, including the local language, Pijin. The sound of it intrigued me, in spite of my jet lag, and I stretched my ears to try to get them around the words he made when he gave us a sample. Even without formal instruction, I picked up the language within a few months.
Three years floated by in the Solomons. The days were laced with excursions: hiking through the jungle to see Tenaru Falls, riding outrigger canoes to visit indigenous villages, four-wheeling through streams to stay at the Tambea resort, snorkeling around sunken war ships in Iron Bottom Sound.
I could chatter as fluently in Pijin as I could in the Queen's English. Gone was my American accent. While I was there, I promised myself that I would learn seven languages.
It has been almost thirty years since I made that promise, and I'm working to get there. I studied German, Latin, Spanish and Russian during my school years — I don't remember a thing! My big break came after I graduated from high school. I spent a year as an exchange student in Sweden.
I followed that with more bookwork: ancient Greek and Arabic in college. Then I served as a missionary for the Church of Jesus Christ of Latter-day Saints, spending a year and a half in Italy.
In all, I've studied six languages in the classroom and have had limited success in gaining fluency. Four others, including my mother tongue, I've learned from native speakers, which has been far more successful.
Still Learning Languages
A number of years ago, I gave up a great job. I was making good money -- more than my husband, but don't tell him. I was traveling the world -- an all expense paid trip to India was the high point of my career. I loved what I was doing, but the decision wasn't hard: I wanted to stay home and with my new son. I love, love, love my new job. Being a stay at home mom is the most rewarding thing I've ever done.
Now, as Leslie Woodford, full-time mom, homemaker, and language guide, I'm working with Spanish-speaking neighbors in my neighborhood to learn - and teach my children - Spanish. I haven't reached my childhood goal yet, but I'm on my way.
Learning another language is hard work, often agonizing, sometimes embarrassing, and always rewarding work. My dad, Terry Marshall, created Walkabout Language Learning, and I've tested and fine-tuned it. It is the most flexible language learning method that I've found. That is why we want to share our ideas with you. Let us enhance your language learning efforts by helping build a pathway to success.
Want to Learn More ... In Person
Like what you've learned here? I'd love to teach you more in person. I've taught people of all ages, from four-year-old preschoolers to retired Peligrinos preparing to walk through Spain. Book me to teach your group how to learn a new language.
How My Passion Makes Money for Me
Shortly after I quit my "paying job," I discovered a way to make money from home. I built this website around my passion -- language learning. Not only do I love learning languages, I also discovered that I enjoy web design. I work on this website when my kids are napping or in school, or early in the morning before they get up. It is great fun AND it supplements our family income. I found a web building software called Site Build It! (SBI!), that:
teaches me how to build a business online,
shows me how to successfully bring traffic to my website,
provides ongoing education on how to turn that traffic into money.
This program offers a fabulous education on building an online business. I watched the introductory set of videos to get started. They showed me how to build a website step by step. Now that my business is up and running, I return again and again to their extensive library of educational materials with great ideas and suggestions on ways to build and improve my business. There are great tools that help me research popular keywords and I didn't need to know any html (web programing language) to start building my site. This program has all the tools I need. When I get stuck, I turn to the community of helpful and supportive website owners: they've got a super forum. If you are a stay at home mom, or even if you just want to make money from home, I highly, highly recommend this software.

Ready for great adventures ahead? Come along with us. Better yet, let us come along with you as your language guide.

Wishing you every success,

Leslie Woodford
Web Mastress


Return from Meet Leslie Woodford to Meet Your Language Guides

Return to Your Language Guide home
---