The Language Learning
Motivational Public Speaker
Leslie Woodford
Leslie Woodford
Use Leslie Woodford as your next motivational public speaker.
Who would use Walkabout Language Learning©?
Global economy: Need to communicate with Spanish or other mono-lingual speakers?
Study abroad: Want to speed up language acquisition?
Foreign travel planned: Want to dive into the local culture?
Cross-cultural marriage: Need the tools to smooth communication at home?
Branch offices in other countries: Need help communicating with non-English-speaking co-workers?
Research project in foreign country: Have to learn a new language?
Let''s face it: physicians, welders, members of the military, students, and the myriad people who travel to other countries for work or fun have very different language needs. Walkabout Language Learning focuses on individual learners' specific needs. Why shouldn''t learners dive right in and learn the practical language they need right now?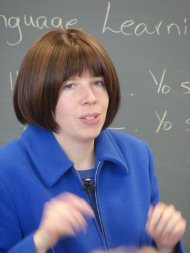 I can help. I''m Leslie Woodford, motivational public speaker and language guide ready to help craft a program that will meet individual needs, whether it is in an orientation session or hands-on workshops for groups under your responsibility, or in a personal coaching arrangement for you or someone you know.
If you choose an orientation or a workshop, your event will be memorable, useful, and inspiring – I teach your participants the skills to become successful language learners, whatever the language. They can use these skills at home or abroad as they benefit from knowing another language. I also work with motivated individuals seeking to design their own immersion program.
I''ve spoken to audiences large and small, and I pride myself in developing a presentation that fits the needs of your group or organization. Let''s work together to create an outstanding event. I have more than thirty years experience with language learning, ten years experience with instruction, and a Masters in Curriculum and Instruction.


Snap, Crackle, Talk: Using Breakfast… or Any Time for Language Learning
Choose from a 60 or 90 minute keynote speech or a 3 or 6 hour workshop.

Walkabout Language Learning© teaches skills that enable learners to direct their own language learning. The method puts the learner – maybe it''s you – in the driver''s seat in deciding what language skills you need, how much time you want to devote, and when you''ve reached the level of mastery right for you.
Walkabout Language Learning© can be used to supplement formal language classes, or as the main approach to language learning. In either case, the method starts "where the sidewalk ends" as each learner charts a personal path toward language acquisition. You can take Walkabout Language Learning© on the road, use it anytime, anyplace. The focus of Walkabout Language Learning© is Right Now language: What do I need to be able to say Right Now?
As a motivational speaker, Leslie will inspire learners to reach their own language learning milestones.

Rose Colored Lenses: A New Language Lets You See with New Eyes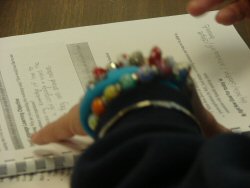 Even if you are a tourist traveling through Spain for two weeks, introducing yourself in Spanish will have a magical effect on your Spanish hosts. You''ll begin to see the world through their eyes. You''ll make unexpected friendships. People will go out of their way to help you. People love to hear foreigners try to speak their language; they love to teach others their language.
In addition to enriching personal experiences, learning a new language allows you to understand concepts and ideas that we may not have in English. For example, you could enjoy a Swedish fika, learn to inserir yourself into Italian culture, or meet a Melanesian saemnaem (same-name). It is often said that the Inuit have many different words for snow, although this isn''t exactly true, it is true that certain concepts and ideas can be more clearly expressed with specific words in another language.
Use Leslie as your next motivational public speaker to help you get more out of your international travel.

¿Se puede cortar el pasto delantero?— Would You Mow the Front Lawn?
Practical Spanish in the Workplace
Whether you employ Spanish speakers or you have Spanish speakers as customers or clients, you are at an advantage if you can do business effectively in Spanish. As a motivational public speaker, Leslie will show you how to identify and learn Right Now Spanish, the Spanish that you need "right now" to communicate effectively. Your business will profit as you will gain the skills to effectively communicate with Spanish workers or clients. Using Walkabout Language Learning© will improve teamwork and productivity, help avoid accidents and quality mistakes, and put you ahead of the competition. It will help you build and strengthen relationships with clients and employees – and that is good for your bottom line. Use Leslie as your next motivational public speaker to push your business to the front of the pack.

¿Te gusta la escuela? – Do You Like School? Practical Spanish for the Early Childhood Classroom
Do you have English-as-a-second-language students in your classroom? Would you like to ease their transition into the school system? Need to communicate with parents? Leslie will show you how to identify Right Now Spanish, the Spanish that you need "right now" to communicate effectively. Once you identify the Spanish you need, Leslie will show you how to find and use community resources to learn the Spanish you need. Using Walkabout Language Learning©, you will gain the skills you need to effectively communicate with Spanish speaking students and parents. And Walkabout Language Learning© isn''t just for Spanish; it works with any language. Use Leslie as your next motivational public speaker to effectively serve your ESL students.

---

Return from Leslie Woodford the Motivational Public Speaker to Your Language Guide home

Stay in Touch with Language Lore ezine
Want to stay in touch? Subscribe to Language Lore, our internet language learning email newsletter. This free ezine facilitates your language learning journey. See our back issues here.

Go to your email now to confirmation your subscription. If you don't see an email within an hour (check your junk mail folder too), please contact us. We respect your privacy and never sell or rent our subscriber lists. If you want to get off this list later, one click unsubscribes you.