Step 3: Language Practice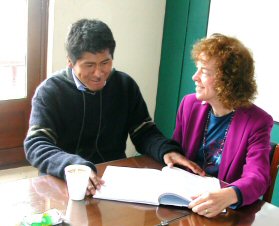 Step three is the time for language practice. Having completed step two: prepare a dialog, you have your first dialog; now you need to memorize it. This means practice, practice, practice.
This step probably will take the most time and concentration. Do not worry if you spend several sessions working on language practice for a single dialog. Do make sure you learn the dialog completely, so the words flow easily for you.
Start by having your mentor read the dialog to you five or ten times, until it begins to sound familiar to your ears. Then learn to say the whole dialog, sentence by sentence. Drill with your mentor until you know the passage inside and out.
Once you memorize the dialog, role-play it with your mentor. Adding action to your language practice may cause you to forget parts of the dialog. This is normal. Practice it until you can do it comfortably with actions, including your approach. Click here for some amusing stories about making language mistakes.
After you learn the dialog, ask your mentor to drill you on specific sentences from the dialog, substituting other words you might encounter into these now familiar sentences.
Let's say your sentence is, "How much are your carrots?" Ask your mentor to develop drills that require you to substitute other vegetables in the spot for carrots, such as potatoes, squash, etc. "How much are your potatoes?" Ask your mentor to drill you using these new words as cues. You say, "How much are your carrots?" Your mentor says, "potatoes," and you revise the sentence to say, "How much are your potatoes," etc. The idea is to build your vocabulary and fluidity.
Language Practice Hint
Work from the end of the dialog. Start at the end of each sentence. Drill the last few words. After you master them, add several words before them. When they become easy to say, put all the words together to make a phrase. Drill. Move back a few more words. Drill and add.
Mastering the end first helps you develop a more natural intonation and ensures that the end of the dialog is as strong as the beginning. Most people's natural tendency is to work from beginning to end. The beginning of the dialog gets rehearsed over and over because you practice it each time you say the dialog, but the end may get only a few repetitions. When you play the dialog out in real life, if the ending of the dialog is not stronger than the beginning, it might crumble.

Here's another drill you should ask your mentors to do for each new dialog: a sentence about your day's objective. Using our example, the sentence could be, "I am going to the market to buy carrots." In this case, you want to be able to say what you are going to do and what you did. So your mentor's substitution cue would be "went." And you would then say, "I went to the market to buy carrots."
Do not skip the role-playing. Important cultural messages are portrayed in body language. Take turns playing each role and watch your mentor's body language as you practice. Ask him about anything unusual he may do during the role play. Or simply ask your mentor about the proper protocol in the situation you are practicing. Is it the same for men and women, what are the proper courtesies, do people look one another in the eye, etc. This step puts pressure on you to perform, which is what you will do when you go into the community to practice. Your mentor can save you from public embarrassment by advising you in private about culturally appropriate behavior.
Download the Walkabout Language Learning Action Guide to learn a additional drilling techniques that you won't find here on this website. It will help you master your new dialog. In addition, it is filled with tips and techniques to speed you on your language journey. When you feel fully comfortable with the dialog and variations you've drilled, you are ready for step four.
Conintued - Second Language Learning -- Step 4: Communicate
Return from Language Practice to the Daily Learning Cycle
Return Your Language Guide home
---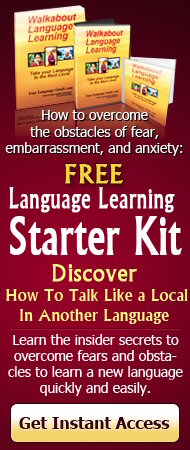 Active Language Practice
Whenever possible, speak the language aloud rather than reciting it silently to yourself. Say vocabulary words out loud, read passages in the text aloud, do pronunciation activities orally and not just mentally.
Write out the answers to activities rather than gliding through them in your mind. Read aloud entire sentences in an activity rather than just reading a fill-in response. Transferring language from your mind to your mouth is a skill that requires a great deal of practice.
--www.vistawide.com
---
Now Available Study Abroad Handbook
Planning to study abroad? Having a hard time choosing a program?
Check out our helpful guide "How to Choose an International Study Abroad Program."
Best of all, it's a FREE download.


---