Cuba Classic Cars and the Havana Hustle
Note: Cuba classic cars is part of a travel blog that we wrote during a humanitarian mission to Cuba. We are convinced that language opens a gateway to understanding culture. These pages focus on the culture of a country that has been relatively isolated for a half century. Our visit offered an opportunity to explore a place that few of our countrymen have seen. While we were there, we practiced Walkabout Language Learning to improve our Spanish and spent time with Cubans through a Jewish medical mission and informal encounters in Havana. See the list of "More Cuba Stories" on this page to explore how culture and language intertwine.

It's our first day in Cuba. We pull up at Museo de la Revolución, and sightseeing is out the window. Why? Cuba classic cars lined up on the boulevard draw me like an electromagnet. I'm barely out of our tour van when a guy waves me over to a gorgeously restored Chevy: a '56 Bel Air sports sedan. It's museum quality: how could I resist? "I give you a ride, señor! " He tries to push me inside. I back away.
"Just to sit!" he pleads. He's in my face. I scurry away.
I'm headed for the safety of our group when another guy falls in beside me, grinning as if he were a long-lost brother. "Ola, amigo!" He shadows me, scratching out a "caricature" in his notebook with a felt pen as we walk. He finishes, thrusts it at me. He's selling hen scratches, not even rides in Cuba classic cars. This is life in Cuba.
I see glasses and moustache, but nothing else I would recognize in a mirror. Meanwhile, yet another dude corners Annie. They're "Picasso" and "DaVinci," they say with straight faces, and the bargaining begins. I know better, but we pony up for their "art" anyway. We've been had -- fleeced the first morning out. How embarrassing to be snookered like fresh-faced school kids!
We are a group of seven Americans in Havana to deliver medical supplies to synagogue-sponsored clinics. Through the day, others hustle us: three women in Mardi Gras-gaudy costumes pose with us . . . for a price; other men pitch rides in and/or photos with their restored American classics.
Another day, in the artisan market, vendors call out, inveigle us into their stalls, press their wares on us. Annie succumbs to purchase of unusual rhythm instruments she has no idea how to play. "I want to learn!" she tries to explain. (I roll my eyes.)
We banter with the vendors . . . and when we say we're Americans, they light up.
"I love America!" one says.
"Why?" Annie asks.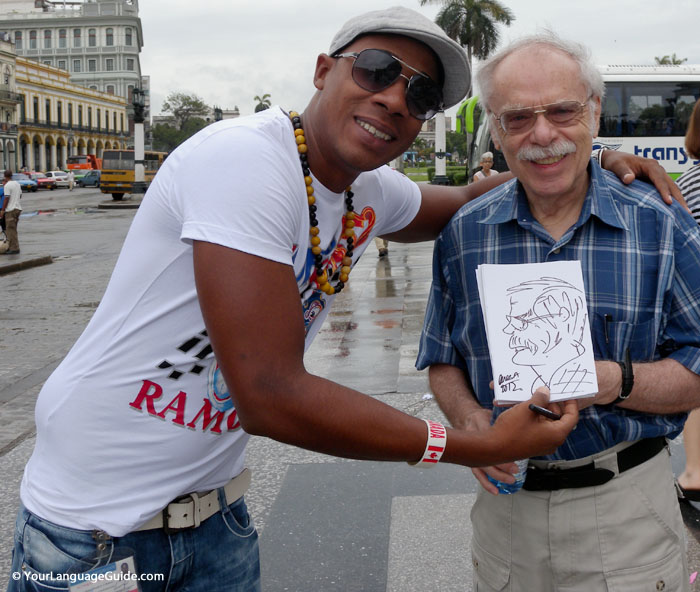 Street artist calling himself "Picasso" hustling a living.
Ann Marshall
"Freedom of expression!" he says in Spanish. She nods, Yes, we have that.
It is a market, yes -- buyer and seller bargaining -- but not aggressive, not Marrakesh, Cusco, or Manila. It's a friendly gathering place; we stay and chat, hoping to learn more about life in Cuba.
Here's another twist: no gangs of kids besiege us from every angle to beg for coins or push schlock trinkets; no women dog us block after block, as in the highlands of Vietnam. We see no beggars, no one with a hand out or a hand-scrawled sign, "Hungry vet, please help" or "Will work for food". Not one.
I think back to our arrival in Havana: a line of taxis hovered expectantly. Parked nearby was a stunning lineup of Cuba classic cars -- but no one rushed out to snag us. We simply hiked past them into our waiting van. What a welcome change from the waves of pitchmen at other third world airports who descend on weary arrivals like flies on fresh meat. Life in Cuba is different from what we've come to expect from our previous travels.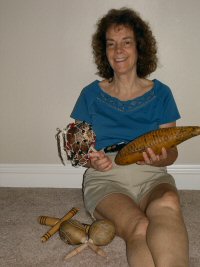 Ann displays cuban rhythm instruments.
Terry Marshall
The Simple Art of Asking Tells Us About Life in Cuba
It's not that Cubans are above hitting up tourists for money. They're struggling; but poverty in Cuba is more subtle -- and just as painful. Professionals here -- teachers, doctors, bureaucrats -- may earn as little as $30-50 a month. Such is life in Cuba.
Medical care is free; housing and food subsidized, but they can't live on that. They have to supplement their salaries. Every morning we leave a cash tip plus shampoo and soap (brought from home) for our hotel housekeeper -- they need it, the tour organizer wrote before we left. Life in Cuba can be difficult. "If they can't use it themselves, they'll sell it." She also admonishes not to succumb to the pleas of occasional street beggars. "If you do, you'll be besieged," she says.
Yes, we do get hit up, but each time it's so unexpected we can barely respond:
In a café restroom, a sharply dressed patron strikes up a conversation. He's delighted to meet an American, he says. Then he asks for money: for his kids, their education, to buy medicines. "Sorry, no," I manage. He asks if I have soap or medicines or anything to help his kids. So much for life in Cuba.

We're at a gas station in a village. An elderly woman totters across the street and aims straight at us. Ah, a chance to practice Spanish with a local! She extends her hand, palm up: "A dollar for me?"

In another town, I approach a man sitting on the seawall -- another shot at local Spanish. "Ola," I say. He nods, and asks for money . . . then soap, medicines, shampoo, "anything for my kids," he says in Spanish. Wow! Life in Cuba seems challenging.
More Cuba Stories

The Joy of Chance Meeting
It's nearly midnight in Havana. A few stragglers linger in the sidewalk café at Hotel Inglaterra, a 19th Century national landmark fronting central park. No fiery rhythms echo from raucous cabarets -- not a strain of mamba, salsa, timba; not even Guantanamera. Bourbon Street it isn't! Even the Cuba classic cars seem bedded down for the night.
Tonight we dined in the rooftop Café Laurent overlooking the city. I had rabbit. Why not? Cuba food is far more than beans and rice.
Now, we stroll the Prado, a tree-lined, marble-paved promenade dividing la Habana Centro (Central Havana) from la Habana Vieja (Old Havana).
Dim lights from shuttered old buildings in various stages of disintegration and renovation barely penetrate the canopy of darkness. No bright street lights or heavy traffic here, merely an occasional dimly lit window from a building that looks otherwise uninhabited. (People actually live in some parts of these crumbling structures. This surprises us about life in Cuba.) No throngs of revelers; only an occasional passerby scurrying along to . . . where? Home? Sleep after an exhausting day?

Guantanamera
Guantanamera. It's one of our family's favorite songs. We first became familiar with it through one of our favorite 60's singers: Pete Seeger. We remember his American accent that was so noticeable even though he diligently r-r-r-olled his r's. We enjoyed his translation that he included in his recording, and his introduction to José Martí, the Cuban poet and independence hero who crafted the lyrics. We loved it just as much when Joan Baez recorded it. Jimmy Buffett, Bobby Darin, José Feliciano and many others made their own recordings. More than anything, this song has come to symbolize Cuban patriotism. Watch as 75 Cuban musicians from around the world sing Guantanamera.

"Perhaps you are American?" A female voice floats over us, soft, yet penetrating . . . from somewhere in the dark. A black woman clad in white floats from the darkness toward us.

How did she know? We don't ask that question; it's been obvious to everyone we meet.
Her English is impeccable, with a hint of . . . where? Jamaica? We stroll together, we three, sharing stories. She teaches French. Yes, she studied in Jamaica and France. She grew up in Cuba, the daughter of an Antiguan. She's not free to express herself here, she says matter-of-factly, "no one is." She wants to move to Antigua, but she can't leave, "few of us can." She's not complaining, merely stating her own reality of life in Cuba.
Separately, Ann and I wonder what she wants from us. We wait for a pitch. None comes. At a side street, she says, "I must turn off here." At our suggestion, we exchange e-mail addresses, and she goes on her way.
Ann and I rejoin our American group and continue on. We're both embarrassed that we assumed she was after something, that she was less than a friendly soul.

Squatters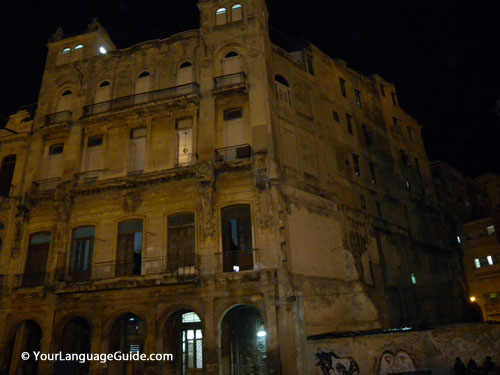 Still occupied: deteriorating colonial building in old Havana.
Ann Marshall
This old building in Havana is no longer livable. There is no electricity or running water in the building. The basic infrastructure that many take for granted is no longer functioning in this building. Yet, light peers out of several lit windows in the building. Our guide explained that these are occupied by squatters who have brought lanterns, candles or whatever they can to make a home in this "vacant" building. Our guide shared a story about a building similar to this one that had been taken over by families. The building was structurally unsound, and eventually collapsed, killing whole families, including children. Heartbreaking.

The ultimate tourist: Hustling other tourists in Havana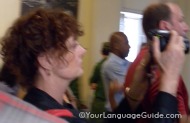 We capture a picture of Susan Sarandon.
Ann Marshall
I've been looking for a souvenir of Cuba, something more than a clever T-shirt. Something special -- maybe a hand-carved scale model of one of these wonderfully restored (American) Cuba classic cars or a painting that captures the flavor of the island. Just something unique. Something that will remind me of life in Cuba.
Cohiba cigars? I don't smoke. Besides, my government says it's illegal to bring home Cuban cigars. Havana Club rum? Nope, Uncle Sam nixes that one too. I'll buy a bottle next time I'm in Canada or Mexico. I'm a law-abiding citizen.
Museum-hopping hasn't helped. The Museum of the Revolution's "gift shop" is a closet with a handful of books scattered on a couple of dusty shelves.
At Hemingway's house-cum-museum, a small gift shop offers trinkets, mugs, and jewelry, but not even one copy of Old Man and the Sea. The Che Guevara museum has no gift shop . . . none at all.
So here we are, wandering the grand old Presidential Palace, now the Museum of the Revolution. We skirt a small group of tourists gathered around an English-speaking tour guide.
One woman in the group seems strikingly familiar. She's my age, but she looks bedraggled -- maybe tired from trudging through museums, maybe up too late last night or preoccupied with personal worries. Also a bit frumpy, like she just threw on whatever was handy.
Still, somehow she stands out. Do I know her? Nah! It's Cuba. I don't know anyone in Cuba.
Later, we're in the grand ballroom, looking at the secret door Batista used to escape from the palace on New Year's Eve 1959 and flee the country. The group we saw earlier shuffles past. I see that familiar face again. She seems alone in a bubble of her own making; she's not chatting with anyone, merely silently trudging along, occasionally snapping a photo here and there.
Then it dawns on me: it's Susan Sarandon, the American movie actress. Nah . . . this is Cuba.
I can't let go of it. Though I'm not a movie buff, I'm sure that's who it is. I point her out to our group. They're all atwitter. Ann snaps a quick shot. Brian edges up to her, asks if he could get a picture of the two of them together. She assents -- if you do it quickly, she says. No smile here, at best begrudging assent. Brian poses with her, click, and she moves on.
So there it is: our unique souvenir of Havana. If we can take pictures of a famous American writer's house, why not a shot of an American actress playing tourist? We don't know if Susan Sarandon is bilingual, but we do have a list of bilingual celebrities.
That's the thing about life in Cuba: here you have to expect the unexpected.

Previous: Little-known Cuba attractions: Holocaust tributes
Next: From the streets of Havana: warm encounters with Cuban people


Terry Marshall is a language and travel enthusiast and a writer who created Walkabout Language Learning. Follow my blog as I replace decades of old memories with new observations about the culture and the place in a series of posts on our humanitarian mission to Cuba. If you have visited Cuba, I encourage you to share your experiences or leave a Facebook comment below. If you have questions about my trip, please ask. To read more of my writing, click here.
Return from "Cuba classic cars and the Havana hustle" to Language Lore

Visit Terry Marshall's Fiction page

Or go directly to Terry's Cuba blog summaries

Stay in Touch with Language Lore ezine
Want to stay in touch? Subscribe to Language Lore, our internet language learning email newsletter. This free ezine facilitates your language learning journey. See our back issues here.

Go to your email now to confirmation your subscription. If you don't see an email within an hour (check your junk mail folder too), please contact us. We respect your privacy and never sell or rent our subscriber lists. If you want to get off this list later, one click unsubscribes you.