US travel to Cuba: Intrigue Sizzles in the Air
Note: US travel to Cuba is part of a travel blog that we wrote during a humanitarian mission to Cuba. We are convinced that language opens a gateway to understanding culture. These pages focus on the culture of a country that has been relatively isolated for a half century. Our visit offered an opportunity to explore a place that few of our countrymen have seen. While we were there, we practiced Walkabout Language Learning to improve our Spanish and spent time with Cubans through a Jewish medical mission and informal encounters in Havana. See the list of "More Cuba Stories" on this page to explore how culture and language intertwine.

US Travel to Cuba, Havana, Day 1
Ah, Cuba . . . Cuba at last! We thought US travel to Cuba was impossible. But now we're in Havana, that forbidden Commie bastion 90 miles from Key West. Land of Hemmingway and José Martí, Che and Fidel, Elián González and Desi Arnaz. Plus Havana Club rum, Cohiba cigars, and a living fleet of pre-1960 Chevys and Buicks.

Americans can't willy-nilly fly off to Cuba -- not legally, anyway. Our government rules it off-limits; you've got to have a permit. We're here on a mission to deliver medical supplies to several Jewish clinics. So far, all we've done is eat. And drink. This is truly the land of beans, rice, and rum.
Our US travel to Cuba was a prop plane from Miami, arrived mid-day, checked into our hotel, downed the obligatory welcoming mojitos (rum, lemon, mint leaves, and sparkling water), and ate lunch mid-afternoon at Vista del Mar, a paladar (private restaurant), fronting an overcast, drizzly Havana Bay.

More Cuba Stories

Vista del Mar is a tiny upstairs room in an old mansion -- five 4-person tables inside; three 2-person tables squeezed onto the veranda. Mojitos. Wine. Swordfish in lemon sauce. Black beans mixed with rice. Paper-thin home-made potato chips. Lemon flan. Robust coffee.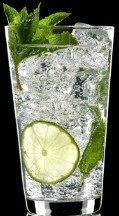 Another mojito, señor?
Beauty on the Bay
But food is only the appetizer; intrigue, the main course. Inches away from me -- on the veranda side of a bay window -- a willowy beauty reduces the bay view to an afterthought. She had zipped into the last parking spot as we drove up, sprang from her car and flounced into Vista del Mar like a model on the runway, hair bouncing, clingy dress displaying each luscious curve.

She sits tall, shoulders back, perky nipples unfettered by a bra. Her knee pushes against the knee of the stud who had greeted her with a bottle of chilled wine -- not some stereotype of a smooth-talking Latin lover, this guy, but a lean, mid-30s specimen with two-days growth. She dawdles through lunch, at times focusing intently with pouty lips and bedroom eyes, sometimes with animated gestures and rapid-fire exchanges. At times she merely gazes, stroking his arm, entwining his fingers in hers, fondling them. The air around them sizzles. They are a silent film, their Spanish muted behind glass. But what a film . . . a scorcher!
Welcome to Cuba; we'll have to see Havana Bay some other time...

Nightfall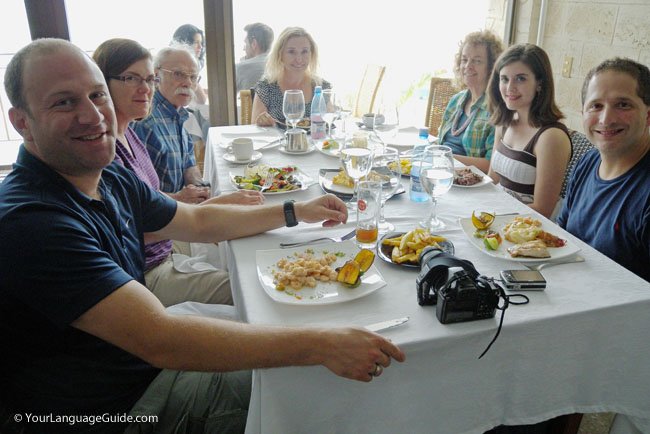 Camaraderie laced with intrigue.
Ann Marshall
Ann and I are dining with our five fellow travelers to Cuba at Aljibe restaurant. No walls, but the restaurant's thatch roof shields us from tonight's Biblical rain. Just beyond our table, a brilliant red flamboyant tree shimmers. Ah, the tropics: lush, steamy, the very air succulent. We live in desert Las Vegas; Havana is on a different planet.
We're two mojitos down, and now into wine and a family-style feast: bowls of black beans and rice, savory chicken that slides off the bones, string beans, thin sweet potato chips, French fries. French fries? Yeah, more than we can possibly eat. Then ice cream, smooth as gelato. And rich, black espresso. I am a fan of strong coffee. This is a state-run restaurant. Wow, some state!

Preparation for Jewish Cuba
Ann and I listen in on the after-dinner conversation. We're not only foreigners in Cuba, we're also foreigners at our table. Our companions, Americans all, are reflecting on distinctions among orthodox, conservative and reformed Judaism. Ron Abrams' dad is a rabbi. Raina Baroff's husband, also a rabbi. Raina's daughter, Paula, just graduated from a Jewish high school in Atlanta. Raina's mother, Shaindle Schmuckler, organized this tour.

Shaindle works for the Marcus Jewish Community Center of Atlanta, and has been leading these Cuba tours for ten years. Our fifth tour mate, Brian Chernoff, doesn't have a rabbi in his immediate family, but he's fluent in Judaism. He's a grad student at the University of Georgia, and seems to know Israel better than I know my adopted state of Nevada; he's done a stint on an Israeli kibbutz. We are here to deliver medical supplies to Jewish medical centers and clinics.


The Cuban Flag
The flag on the colonial building above was not the only flag that we saw in Cuba. It piqued our curiosity. Here is what we learned about the meaning of the flag. The Cuban flag was first designed in 1849 by Narciso López. It is associated with the fight for independence from Spain. When the U.S. took Cuba from Spain in 1899, the U.S. flag was flown. But the Cuban flag was formally adopted in 1902 when Cuba gained independence from the US. It has five blue and white alternating horizontal stripes. There is a red triangle on the left side, with a white, 5-pointed star, which stands for independence. The blue stripes represent Cuba's three original districts, white symbolizes purity of ideals, and red represents the blood of those who fought in the war for independence. Purchase your own Cuban flag.
Previous: Travel to Cuba 

Next : Revival in Jewish Cuba


Terry Marshall is a language and travel enthusiast and a writer who created Walkabout Language Learning. Follow my blog as I replace decades of old memories with new observations about the culture and the place in a series of posts on our humanitarian mission to Cuba. If you have visited Cuba, I encourage you to share your experiences or leave a Facebook comment below. If you have questions about my trip, please ask. To read more of my writing, click here.
Return from US travel to Cuba to Language Lore

Visit Terry Marshall's Fiction page

Or go directly to Terry's Cuba blog summaries 

Stay in Touch with Language Lore ezine
Want to stay in touch? Subscribe to Language Lore, our internet language learning email newsletter. This free ezine facilitates your language learning journey. See our back issues here.

Go to your email now to confirmation your subscription. If you don't see an email within an hour (check your junk mail folder too), please contact us. We respect your privacy and never sell or rent our subscriber lists. If you want to get off this list later, one click unsubscribes you.