"All-Inclusive Cuba:" Pointers on Living the Good Life
Note: All-inclusive Cuba is part of a travel blog that we wrote during a humanitarian mission to Cuba. We are convinced that language opens a gateway to understanding culture. These pages focus on the culture of a country that has been relatively isolated for a half century. Our visit offered an opportunity to explore a place that few of our countrymen have seen. While we were there, we practiced Walkabout Language Learning to improve our Spanish and spent time with Cubans through a Jewish medical mission and informal encounters in Havana. See the list of "More Cuba Stories" on this page to explore how culture and language intertwine.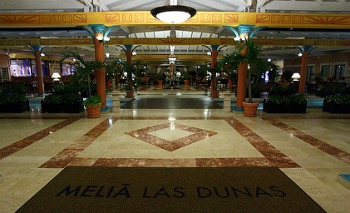 Melia las Dunas lobby
We had limited understanding of what "all-inclusive Cuba" meant as we contemplated where we would stay in Cuba.
My wife and I still live by habits from our Peace Corps days: when we travel abroad, we try to stay with local families; if not, we search out low-budget, but picturesque old hotels. No five-star luxuries for us, just a clean place to sleep within walking range of the local sights. We travel to meet people who are different from us, who speak a different language, who live by customs unfamiliar to us.
This trip is different: it's all been arranged. We have only to trot along behind our guide and driver -- delightful people who are both very good at what they do.
So here we are in "Meliándia" -- Meliá las Dunas, to be precise -- an "all-inclusive" resort 240 miles from Havana on a coral key connected to mainland Cuba by a 30-mile-long man-made causeway.
We are a group of seven Americans bringing medical supplies to synagogue-sponsored clinics -- this two-night retreat is a respite from our humanitarian mission (as if a respite were needed; after all, we are in Cuba!). There are no Cuban villages out here, no hole-in-the-wall cafes or artisans to discover, no natural or historic sites.
But, man, is Meliándia popular. The manager tells us over complimentary mojitos that he has 1,200 guests this weekend. Yet, we see no more than a dozen visitors in the spacious, open-air lobby as we sip and chat. Las Dunas is cleverly designed to be a hideaway, to give the illusion of privacy.
This version of all-inclusive Cuba is a campus of two-story bungalows set down in a manicured jungle of trees, shrubs, and flowers. No high-rise condos. No streets or boulevards. No belching vehicles. No neon. Faux-stone walkways, lit at night by low-voltage lamps, wend their way through the greenery.
Our room is standard high-end hotel-fare: king-size bed, private bath (with bidet), flat-screen TV, a mountain of towels, coffee-maker. It's a Cuba vacation spot . . .and it could be a Westin or Hilton in Los Angeles.

Meliá las Dunas in a Nutshell

Looking for an unspoiled spot for a Cuba vacation? Here's how the hotel describes itself:
Located beachfront in beautiful Cayo Santa Maria, an exotic tropical paradise, renowned for its dazzling natural luxury. Five-Star All Inclusive Resort with 925 rooms. The property vividly recreates ambiences for families and couples. A tourist city, filled with attractions that converge in a spacious lobby which extends along a unique boulevard. Recommended for families, weddings, honeymoons, incentives and circuits.
Sorry, I can't top this description . . . but check out our thoughts about it.

All-Inclusive Cuba: A Smorgasbord of Amenities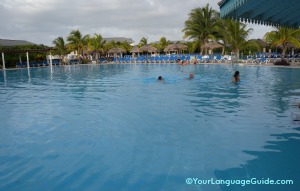 Tired of the pool? Try another one!
Ann Marshall
Ah, but Meliándia is "all-inclusive Cuba." For no extra cost, we get:
Six restaurants, two of which are Las Vegas-style buffets. I frequent the fresh pineapple and mango station; after all, this is the Caribbean. No credit card needed: all meals, all drinks included. One night we dine Italian, serenaded by a flute-cello duet.
Twelve bars scattered throughout the property, including one in the pool, another at the beach, others here and there, everywhere. (Strategically placed so you can easily stagger from one to the next.) Even an espresso bar. Again no credit card needed: alcoholic drinks also included. Care for a mojito, señor? A black Russian? Wine? Beer? They're yours, as many as you want. Did I mention this is all-inclusive Cuba?
Pristine white sand beach -- combed, of course, free of flotsam, jetsam, and stinky seaweed, and dotted with blue chaise lounge chairs and shade-providing palapas.
Zippy 7-seat golf carts, with drivers who scoot you around when you're too tired to walk. Just ring up the operator; one will be at your door in an instant.
Classes (to occupy mind, body, and spirit): yoga, meditation, stretching, tai-chi, Spanish, merengue, salsa, personal defense. When they say "all-inclusive Cuba", they mean it!
Organized games (to keep us fit . . . or occupied): soccer, beach volleyball, water volleyball, darts, archery, boccia, water polo, bingo, shuffleboard, billiards, bowling. Boccia! What is that?


But What To Do?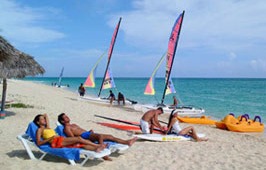 Melia las Dunas -- a world apart.
Foreigners' gathering place.
My wife, Ann, and I aren't keen on organized leisure. Our all-inclusive Cuba getaway offers no hidden byways to explore, no Spanish forts, cathedrals, or museums at this oasis. No market stalls. It's artfully sterile of Cuban culture -- and adventure. We linger over meals with our fellow group members and chat at the pool bar. Tales flow. Our trip companions become friends. They christen us honorary Jews. We enjoy.
We go Walkabout. We look for locals so we can work on our Spanish. The entire staff, including groundskeepers and busboys, are trilingual, as fluent in English and French as Spanish, perfect hosts for the Canadians and Europeans who are the resort's main clientele. No ordinary Cubans live here.
We stroll the Cuba beach in early morning and at sunset, splash in the azure sea, and sprint back to our rooms before we're overtaken by the fogger machine. No mosquitos allowed in Meliándia. All-inclusive Cuba does not include mosquitos!
In our day and a half here, I find one stubby little lipstick-stained cigarette butt half-hidden under a leaf near the walkway. I don't report it; I fear someone might get fired.

And a Breath of Conscience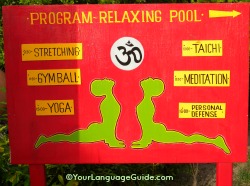 Yoga -- and more.
Ann Marshall
Meliándia freaks out one member of our group. It's decadent, she says, after the poverty we've seen in Havana. Besides, we're in Cuba to bring medicines to Jewish clinics, not to be pampered. She retreats to her room rather than contribute to the "exploitation".
Ann and I are proud of her. She's 18, just out of high school, on her first foreign trip -- and she makes a good point. Meliándia isn't Cuba. In fact, all-inclusive Cuba is not for Cubans. (Our Cuban guide and bus driver are staying here, too . . . but somewhere else, in some other part of the campus.)
The price, I suppose, isn't outlandish by international tourism standards: the internet rate is $120/night (I don't know what we paid; the trip is a package deal). But if Cuban professionals earn only $30-50 a month, Cubans can't afford to frolic here.

More Cuba Stories

Ironically, we drove to all-inclusive Cuba directly from the Che Guevara memorial in Santa Clara. It was in this same province that Che's guerillas defeated Batista's army and sealed the revolution's victory.
Che decried Cuba's shocking disparities -- its wealthy landowners and foreign overlords reigning over a nation in squalor, poverty, ignorance, and ill health.
Che's shadow hovers over us at Meliándia. He's glaring. He holds that cigar out, taps off the ashes. "No, amigo, I told them 'Hasta la victoria, siempre' -- until victory I will always be with you. This isn't my dream."
Nor mine. Next time we're in Cuba, let's hope we find a more "inclusive" atmosphere.

Previous: The search for Ernesto Che Guevara
Next: A glimpse of Cuban Life


Terry Marshall is a language and travel enthusiast and a writer who created Walkabout Language Learning. Follow my blog as I replace decades of old memories with new observations about the culture and the place in a series of posts on our humanitarian mission to Cuba. If you have visited Cuba, I encourage you to share your experiences or leave a Facebook comment below. If you have questions about my trip, please ask. To read more of my writing, click here.
Return from "All-inclusive Cuba": Pointers on Living the Good Life to Language Lore

Visit Terry Marshall's Fiction page

Or go directly to Terry's Cuba blog summaries

Stay in Touch with Language Lore ezine
Want to stay in touch? Subscribe to Language Lore, our internet language learning email newsletter. This free ezine facilitates your language learning journey. See our back issues here.

Go to your email now to confirmation your subscription. If you don't see an email within an hour (check your junk mail folder too), please contact us. We respect your privacy and never sell or rent our subscriber lists. If you want to get off this list later, one click unsubscribes you.