How Languages Define Culture:
Swedish Fika
How do you define culture? Culture is the accumulation of the values, beliefs, and attitudes of a group of people. It can often cause confusion or discomfort when traveling or living abroad, click here for more about culture shock. One of the tasty rewards of learning a second language is that you acquire words for customs and institutions of your host country.

For example, when I learned Swedish, I got to participate in the daily ritual of fika. However, "fika" doesn't translate well into American English. You might translate it loosely as coffee break, because most Swedes drink coffee. Or you might say it is the equivalent of British tea time. Even that doesn't capture the full meaning. Let me explain.

Building a Network of Friends

Swedes have a daily ritual of meeting together for coffee (or a soft drink for children) and a cookie or a smörgås (open-faced sandwich). Everyone takes this informal break each day: families at home, employees at work, friends at school. Other activities stop as people gather together for fika.

It's real (not virtual) social networking, invented long before the internet, and a vehicle for parents to listen to children, employees to establish rapport with co-workers, and friends to build ties. Only by living and learning Swedish can you fully appreciate the civilizing benefits of this cultural ritual.

Swedes Value Deep Friendships

Because of the warm friendships that I developed during daily fika breaks, I learned the meaning of lifetime friendships, of what it means to be Swedish and to build deep relationships. There is a healthy benefit to slowing down for a little while each day, something that I'd never appreciated while living in the US.

I'm not sure if my opinions are colored by the fun times and warm relationships built during fika, but it is my unbiased opinion that Swedes make the best tasting cookies and biscuits in the world. You can try a few of my favorites. Coming soon, click here for my favorite Swedish cookie recipes.

Rituals like fika define culture. This warm tradition offers insight into what it means to be Swedish, and it's the perfect venue for learning both language and culture. Early on I wrote up and memorized a short dialog, practiced it faithfully, and as my language ability and my cultural understanding grew, built on it, expanded it, turned it into a remarkably useful conversational tool. Sometimes, the best way to learn is to take a break. It sure was in Sweden.

Share Your Story or Read Other People's

Do you have a great story about culture? Visit the Culture Corner to share your story or to read the experiences of others as they've traveled in other countries.




Click here to return from Define Culture to Culture Corner

Click here to return to Your Language Guide Home

---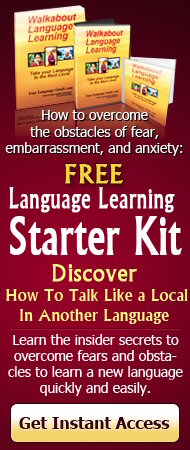 Language and Social Institutions Intertwine
Fika is a social institution in Sweden; ... This practice of taking a break, typically with a cinnamon roll and/or some biscuits or cookies, ... is central to Swedish life.
--Wikipedia
---
Now Available Study Abroad Handbook
Planning to study abroad? Having a hard time choosing a program?
Check out our helpful guide "How to Choose an International Study Abroad Program."
Best of all, it's a FREE download.


---
Multicultural Literature
Check out the latest additions to our multicultural literature section: Multicultural Stories.

This section offers both fictional and non-fictional stories and essays set in regions around the world. You can read them on line for FREE.


---
---