Warm Encounters with Cuban People in the Streets of Havana
Note: Cuban people is part of a travel blog that we wrote during a humanitarian mission to Cuba. We are convinced that language opens a gateway to understanding culture. These pages focus on the culture of a country that has been relatively isolated for a half century. Our visit offered an opportunity to explore a place that few of our countrymen have seen. While we were there, we practiced Walkabout Language Learning to improve our Spanish and spent time with Cubans through a Jewish medical mission and informal encounters in Havana. See the list of "More Cuba Stories" on this page to explore how culture and language intertwine.

Bertha -- one of the Cuban people we met.
Ann Marshall
So what are Cuban people like today? After a week's visit I won't make sweeping generalizations. Rather, let me share a few experiences.
Our previous blog, Cuba classic cars and the Havana hustle, reflected our first encounters on the streets of Havana. We're tourists in a country where even professionals have to scrimp and hustle to survive. Our very trip makes us rich by local standards.
As tourists, we get hustled, and hit up for money here, yes, but I can't overlook the last time I bought groceries back in Las Vegas: a woman hot-footed it across the parking lot to ask for money. And every time I drive in Las Vegas I see disheveled panhandlers on the corners or approaching cars at the stop lights. It's not just Cuban people; it can happen anywhere.
Cuban People are Artists, Models, Kind Citizens
We are a group of seven Americans in Havana to deliver medical supplies to synagogue-sponsored clinics. Group tours like ours don't offer time enough to spend hours wandering the streets. That's what I'd really like to do to see Havana and to meet a broad range of Cuban people; then I'd have a good chance to see what Cuban life is like. We'd love to practice our Spanish with locals, but we feel constrained by our fellow-travelers who prefer to speak in English. We had a great time learning Spanish when we visited Peru a few years back. Read about our adventures here. Nevertheless, we come away with memories of many more fond encounters with Cubans and Cuban culture than irritating ones. Examples:
At Brayan Collazo Alonso's hole-in-the-wall photography gallery in La Habana Vieja, Brayan isn't in. But his mother and three twenty-something buddies are. We spend a delightful hour, buy a few photos for framing, and ponder why our "stupid governments" can't realize that it's the Cuban people and the American people who suffer and lose from the embargo and the American-Cuban cold war. Check out other examples of Brayan's art (besides the one below).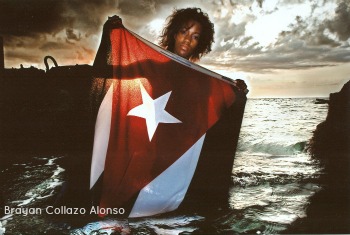 Young girl with Cuban flag.
Brayan Collazo
In the artisan market, Annie chats up the manikin-like security guard -- a peach fuzz-faced young man trying to make it through his 12-hour shift. He lights up with the conversation, and gives us a small picture of what Cuban life is like.

Meanwhile, I go for Cuban bills at the currency exchange. Somehow, I know that the señorita in the booth is a model -- she's that striking. I ask her. She smiles broadly. "Era," she says, I was. Ah, here's a story! She doesn't have time to tell it; I'll invent one.
At busy Paseo de Martí across from the Capitol, the stoplight changes. Annie and I step into the street. Someone grabs my arm. I whirl. My "assailant," an elderly man, points to a stream of cars bearing down from a boulevard angling in from behind us. He nods, shrugs and goes on his way.
I hand the stern-faced immigration officer my passport, and I'm dazzled by the brilliant purple flower in her hair. You don't idly chat with these folks -- they're all business, I know that -- but I forge ahead. "Beautiful decoration," I say. The compliment just pops out; I wouldn't chance it here in the states. She looks up, bursts into a smile. "Why, thank you, I appreciate that," she says.
Overwhelmingly, the people we meet are 1) surprised to meet Americans; 2) pleased that we have come. It's our two governments, not the citizens of the U.S. and Cuba who are the problem.

More Cuba Stories

We'll hold that topic for a future blog about Cuban life.
Previous: Cuba classic cars and the Havana hustle
Next: The search for Ernesto Che Guevara


Terry Marshall is a language and travel enthusiast and a writer who created Walkabout Language Learning. Follow my blog as I replace decades of old memories with new observations about the culture and the place in a series of posts on our humanitarian mission to Cuba. If you have visited Cuba, I encourage you to share your experiences or leave a Facebook comment below. If you have questions about my trip, please ask. To read more of my writing, click here.
Return from Warm Encounters with Cuban People to Language Lore

Visit Terry Marshall's Fiction page

Or go directly to Terry's Cuba blog summaries

Multi-tasking: Salvatore to the rescue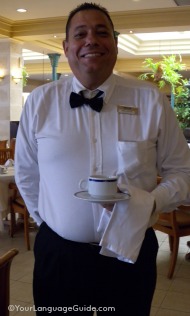 Waiter with flourish.
Ann Marshall
Here's the good life: an early breakfast in a quiet dining room.
Ann and I have beaten the rush. Not only are the wait staff able to take care of everyone's needs, we get first pickings of the fresh-cut pineapple, mango, and papaya. For us, fresh fruit is the centerpiece; the quiche, crisp bacon, and toast are the garnish.
Better yet, Salvatore, our waiter, is Johnny-on-the spot with the thick, robust coffee -- his attentive refills keep it steaming hot. I love great coffee. We didn't have make an exhaustive search to find good coffee.

A family of four settles in at a nearby table, and it's not long before the 5-year-old boy gets restless. Not noisy or fussy, just restless. He can't sit still.
In a flash, Salvatore appears at the kid's side. With a flourish he commands the kid's attention, then snatches a coin from behind the boy's ear. Salvatore doesn't say a word . . . he's a mime. The kid goes bug-eyed.
Salvatore whips out an oversized paper napkin, neatly slits it in half, creases it, folds it, turns it, folds and tucks and . . . presto, he presents the kid with a paper creature. I think it's a cockroach; Ann's convinced it's a creeping lion, about to leap. We don't know what the kid thinks it is . . . but he's delighted.
Salvatore works his magic on the other half of the napkin, presents it. The kid is fascinated . . . plus now he's occupied with his new toys. Salvatore slips away and returns with plates of food.
You've got to hand it to Salvatore -- the man knows how to please his customers. We doubled our normal tip this morning.

Stay in Touch with Language Lore ezine
Want to stay in touch? Subscribe to Language Lore, our internet language learning email newsletter. This free ezine facilitates your language learning journey. See our back issues here.

Go to your email now to confirmation your subscription. If you don't see an email within an hour (check your junk mail folder too), please contact us. We respect your privacy and never sell or rent our subscriber lists. If you want to get off this list later, one click unsubscribes you.