Leslie's Spanish Language Learning Journey
Continued
Let's skip forward in my Spanish language learning journey. Next stop: Mr. Acosta's seventh grade Spanish class. My informal Spanish lessons in Jenny's kitchen ended when we moved to the Solomon Islands. I continued honing my language acquisition skills there, so did my dad; that is where he invented Walkabout Language Learning, but it was a number of years before we could get back to our Spanish lessons.
Lesson 3: Learn Spanish Vocabulary and maybe some Grammar

Mr. Acosta had unreachably high standards for us to learn Spanish. Each week, he wrote a dialog on the board for us to copy. We had to copy it EXCACTLY, word for word without missing a word, an accent mark, or a period. He taught me the mechanics of Spanish: how to conjugate verbs, masculine and feminine nouns, and filled me with an ever expanding vocabulary.
Lesson 4: Learn how to Study and Go Walkabout
Mr. Acosta's took me to a place where I could truly study Spanish. Our school year culminated with a trip to Mexico City. We went Walkabout he didn't call it that, but that is what it was. While I was there, I bought Chiclets--in Spanish. (The word is derived from a Nahuati (Aztec) word.) I haggled at a tourist market--in Spanish, and I learned how to dodge the peddlers at the ancient pyramids. At breakfast, I reviewed my vocabulary lists with Mr. Acosta before each day of immersion Spanish . I still have the earrings that I haggled over at the Mexican market. I felt so proud when I successfully negotiated my price in their language.
Lesson 5: Speak Spanish
Skip forward a few years. Belinda and I are sitting on the front porch talking--in Spanish--about her life and school back in Mexico. She is our month long exchange student. Besides patience and tolerance--blending a new person into your family takes a degree of flexibility, I learned to speak.
Lesson 6: Teach your children
The biggest challenge is still before me: Teaching my children Spanish. When they were still learning English, I taught them Spanish words along with the English ones. Alex knew leche and mas and half a dozen other words. He's a sharp little guy, and at the ripe ol' age of eighteen months, he announced, "Talk to me in English." Whoa! That was a bit of a setback. I have since discovered other ways to cultivate a love of learning Spanish language in my children.
Lesson 7: Use Spanish online resources
Want to learn Spanish online for free? As the internet has expanded, there is a wealth of opportunities--some free, some not. If you search for Spanish resources online, you will likely be overwhelmed with the options. It will take a lot of time to sift through what is worthwhile. I've done a lot of the footwork for you so that you can get right to work using the best, and most cost effective -- oftentimes free -- resources. Learn more about the options available.
Lesson 8: Attend a Language School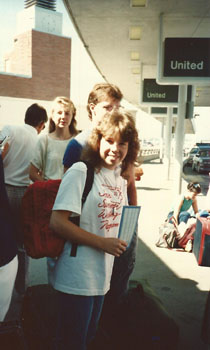 One of our favorite ways to learn a new language is to study in the country where it is spoken. Terry and Ann studied Spanish in Cuernava, Mexico and Cusco, Peru. They also traveled through Cuba practicing their Spanish. I mentioned above the week that I spent in Mexico City. I have studied other languages in other countries as well. Living in another country is an exciting challenge, and we believe that the rewards are worth it. I love talking to people ... connecting with them ... trying to understand their point of view. I also love it when I overhear someone speaking another language, and I realize that I understand what they've just said. Study abroad or attend a language school.
Review
My Spanish language learning journey has taken many forms over the years. I've continued to have Spanish language learning opportunities along the way, like my Mexican neighbors, Jose Luis and Catalina Rodriguez. I was trying to teach them English, but they fed me after each English lesson and I practiced my Spanish at their dinner table. I learned Spanish … more and more of it. Their English … I'm not sure that it improved all that much. You can start right now in your own neighborhood.
The lessons I've shared from my Spanish language learning journey lead to different pathways here on our website. You can find them all on the navigation bar. I learned these lessons:
Learn Spanish Vocabulary
Learn How to Study
Speak Spanish
Attend a Language School
Find a Mentor
< Previous | 1 | 2
Return from Spanish Language Learning to Learn Spanish
Return to Your Language Guide home