How Do I Change My Sheets?
My Embarrassing Language Learning Experience
The Walkabout Method provides opportunities for you to have language learning experiences that go beyond words and phrases. It helps you understand culture, including values, beliefs, and lifestyle. Tasks you performed easily back home may be done very differently.
When I lived in Sweden, I had lots of cultural ah-ha's and uh-oh's. For example, my first night there, I noticed my bed didn't have a top sheet under the comforter. "Interesting," I thought as I dozed off, "I wonder if they wash the whole comforter when it gets dirty?"
Feeling Childish
When it was time to change the sheets, my host mother handed me two sheets. I guessed that one was the bottom sheet, but what to do with the other one?
As a five-year-old, I remember making my bed for the first time: I'd seen my mother do it before, and felt certain that I could do it myself. While she was out of the room, I pulled up my sheets and neatly tucked them in. Bursting with excitement, I showed her my handiwork. She was pleased with my effort and since then bed making was a simple task for me. I never gave it a second thought.
Now, twelve years later, I didn't know how to make my bed. Inside I was dying of embarrassment: I was nearly an adult, and the simple task of making my bed had me completely stumped. I felt like a five-year-old again.
The Language Learning Experience Means New Ways of Doing Simple Tasks
Hmmm. I invented a casual excuse to slip into my host sister's room and glanced at her bed. Wow! She had a whole new comforter. (I had never seen a duvet cover until moving to Sweden.) I hurried back to examine my "top sheet;" sure enough, it was made like a pillow case that went around the down comforter.
What a concept, and a perfect way to keep warm on icy nights! This experience taught me about the Swedish solution to living in a chilly Nordic climate. Different cultures come up with different solutions to common problems. It made made me look at my surroundings more carefully and thoughtfully.
From it I also discovered that even the most basic of tasks can sometimes stump you. That can leave you feeling embarrassed or childish. But, the best way to deal with the embarrassment of not knowing how to do a few simple things is to remember that the langauge learning experience includes learning new ways to do simple tasks.
I can't promise that you'll never make any cultural mistakes while you're learning your new language, but I can give you a guide that will smooth over your indiscretions, embarrassing remarks, or unintentional offenses. Download the Walkabout Language Learning Action Guide to find out how a mentor can help you and to learn how to get one.
Click here for additional stories about making language mistakes.
Return from Language Learning Experience to Walkabout Language Learning
Return to Your Language Guide home
---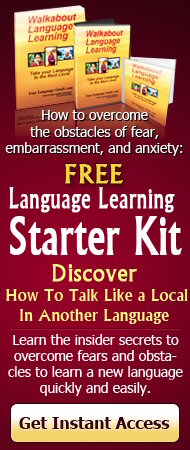 What's that Word?
Embarrassing language learning experiences often come from misprounouncing words or using the wrong word. A friend visiting Spain wanted an ice cream in a cone, and asked for a conejo or a rabbit.
Similarly, I once asked for a sconto (Italian for discount) when purchasing an ice cream. The proprietor looked taken aback and responded firmly, "no." Surprised, I started to ask why, then I realized my error and corrected myself: scontrino; he grinned and gave me my receipt.
--Leslie Woodford
---
Now Available Study Abroad Handbook
Planning to study abroad? Having a hard time choosing a program?
Check out our helpful guide "How to Choose an International Study Abroad Program."
Best of all, it's a FREE download.
---