Havana, Cuba - Walking along the Prado
by Walt Hollander
(Toronto, Ontario, Canada)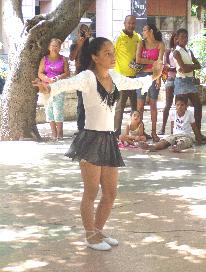 Cuban Girl Dancing

I was hooked the first time that I encountered a few Cubans in my native country of Canada. Their stories about life in Cuba attracted me and gave me the desire to visit their country.

I reflect on the mindset that brought me to this colorful, and exciting place. I sit on a bench on the Prado, a pedestrian boulevard that doubles as a park; it links important parts of Old Havana, providing an enjoyable means of getting around on foot.

I hear music coming from strategically placed speakers. Prado is full of people of all ages, from vendors displaying their own crafts -- photos and paintings -- to passersby, school children, and tourists. I'm enchanted by the happy play of girls skipping rope.

As I watch, a dance performance group assembles. Young girls in vivid costumes. They exhude rhythm and expression; they are a perfect represention of the vitality I see displayed by the Cuban folk I have met.

I've fallen in love with this place, its people, and its culture. Read the details of my adventures in Cuba.
Stay in Touch with Language Lore ezine
Want to stay in touch? Subscribe to Language Lore, our internet language learning email newsletter. This free ezine facilitates your language learning journey. See our back issues here.

Go to your email now to confirmation your subscription. If you don't see an email within an hour (check your junk mail folder too), please contact us. We respect your privacy and never sell or rent our subscriber lists. If you want to get off this list later, one click unsubscribes you.