Asian Indian Culture: Visit to the Market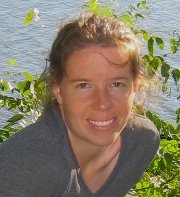 Note: Asian Indian culture is part of a travel blog that I wrote during an extended business trip to India. I spent two months in New Delhi as my employer implemented a new business unit in two of its call centers. In addition to my professional work, I took time to study Hindi, an effort that fostered greater co-operation and trust among my Indian business associates. It also helped me better understand the culture. We believe that language opens a gateway to understanding culture. These pages focus on my observations and experiences in India. While I was there, I practiced Walkabout Language Learning. See the list of "More India Stories" on this page to explore how culture and language intertwine.

I got an up-close picture of Asian Indian Culture. I went shopping at the market today. That was fun. Versha, the proprietress of the company-owned guest house where I'm staying, took me so that she could do the bargaining.

Some of the stalls in the market are open, with no enclosure. Others are made from fabric or covered by tarps to make an open air "shop." Still others are constructed out of more durable materials like plywood. I've been to markets all over the world, but still some surprised me, like this cloth dyer.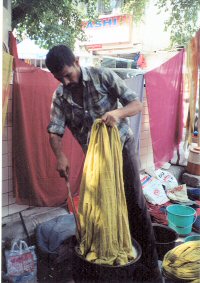 Cloth dyer at Indian market,
by Leslie Woodford
You can see the cloth dyer doesn't even have a stall, he's just standing on the side of one of the walkways. And, he's dying cloth. The only time I've ever seen cloth dyed is when we made tie-dyed t-shirts for fun as kids. Commercial cloth dying is always done in a factory, or at least, I thought so. This man is dying fabric in large bowls. On the sidewalk. At the market. Fabric dyed while you wait, what a concept. I suppose that dying cloth outside is a great choice since it is a messy undertaking. Still, it surprised me, which seems to be my most common reaction with many aspects of Asian Indian culture.
Versha and I figured that if the vendors saw my pale skin and heard my American accent, they would automatically charge me higher prices for their products--even if I tried bargaining. So she did the bargaining in order to get "Indian" prices. After some trial and error, we figured out that the best way was for her to go into a stall by herself while I stayed out of sight. She bargained with the vendor. Once she negotiated a good price, I'd show up and pay.  Woo-hoo! I got a bunch of stuff for not very much money, even one Indian outfit, a salwar kameez.
At the clothing store, tarps created the walls and a roof. The entrance was completely open, but the sides and back where closed by fabric walls. Indian salwar kameezes created wall-to-wall décor; although the shop was tiny, there were hundreds to choose from. In general, I've noticed that Indian women are smaller than American women--I fit in nicely. At 5'1" (154 cm), I stand eye to eye with most Indian women. But, I digress. In the shop, I tried on several outfits, many of them fit snuggly. I might be considered slim in the US, but apparently not nearly as slim as the average Indian woman!
Not sure what a salwar kameez is? It is a suit of clothing for men or women comprised of a pair of pants--the salwar--and a long shirt--the kameez. The pants might be blousy or tight, the shirt usually hangs to mid-thigh or even longer. Women often wear a long scarf called a dupatta. In the US, I'd wear a scarf around my neck with the loose ends hanging in front. In India, the women wear the dupatta backwards, with the loose ends hanging down their back. Again, I'm struck by the differences when I compare Asian Indian culture to mine. I settled on an aquamarine blue one with midnight blue trousers.
I feel pretty when I wear it. The fabric swishes in a feminine way. It seems that Indian clothing is designed to accentuate a woman's feminine nature. The dupatta is light and flowing and I feel like I should break out my belly dancing skills. It helps A LOT that when I wear it to work people tell me that I'm beautiful. I wonder: Is flattery a big part of an Asian Indian culture? Click here to buy a salwar kameez. The prices are a bit higher than I paid at the market--we don't have Versha to negotiate for us, ha! But, it is a lot cheaper than buying a plane ticket to visit the market on your own.
It was harder to do our bargaining trick in the clothing store since the owner could see who was actually buying the merchandise, but Versha drove a hard bargain, and we eventually got a satisfactory price. Now I know why so many clothes sold in America are made in India. Cheap, cheap, cheap. Read more about cheap clothing and my custom made saree .

Metal works vendor at Indian market,
by Leslie Woodford
The metal works vendor had a permanent stall. Hers was constructed of wood as if her stall had been there for a while. Without electricity, it was dark in the shade of her stall. She was selling metal bowls, cups, and jewelry in her shop. We had a delightful chat with her.
My Hindi isn't good enough to carry on a full conversation. I said my memorized phrases--which she enjoyed. Then we talked in English. She was touched by my efforts to learn her language, and it made her more receptive to having a conversation. My efforts to try let her know that I wasn't just another tourist, but that I was interested in learning more about her Asian Indian culture and her language. Her reaction to my effort to learn her language and ways was similar to other vendors we have met around the world. Read how Terry turned his visit to a Peruvian market into a language experience.

Asian Indian Culture: Cow Surprises
The cows wandering around without a human taking care of them continues to surprise me--they wander through the crowded streets without a care. I've seen some lying in the middle of several lanes of a busy traffic. Their bovine composure completely at odds with the rushing cars driving around them.

In spite of the fact that cars flow around them like a rushing stream around a large rock, the cows cause occasional collisions. On the way home from the market, my driver was speeding ... well, speeding is a strong word for it, you can't drive fast in heavy Indian traffic. We'll say that he was hurrying so I wouldn't be late for work. A stray cow ambled across the road in front of the car. I guess the driver thought that the cow was walking faster than it actually was, because he clipped the cow in the hind quarters with the corner of his car. That was crazy. No one injured, although the cow probably has a big bruise now. It didn't even seem to phase it; it just kept walking.
Versha said that most of the cows are strays. Can you imagine, stray cows, like stray dogs? That surprises me. The dead cow is still lying beside the road outside of work. Wonder how long it will be before it starts to stink? I'm learning more about Asian Indian culture.
Click the banner below to go to Fashionika, an online Indian fashion boutique, and peruse Indian clothing, including salwar kameezes.
--Posted by Leslie, Friday, August 8

←  Previous: What Happens When a Cow Dies?                   
Next: Traffic in India →


Return from Asian Indian Culture to Language Lore

Return to Your Language Guide home
Stay in Touch with Language Lore ezine
Want to stay in touch? Subscribe to Language Lore, our internet language learning email newsletter. This free ezine facilitates your language learning journey. See our back issues here.

Go to your email now to confirmation your subscription. If you don't see an email within an hour (check your junk mail folder too), please contact us. We respect your privacy and never sell or rent our subscriber lists. If you want to get off this list later, one click unsubscribes you.